We Create 360 Panoramic Tours
3D Walkabout is an Australian 3D creative studio that designs amazing 360 Virtual Tours. A fantastic way to walkthrough and explore any location, inside or out!
360 virtual tours offer businesses a powerful tool to showcase their locations, providing a dynamic and immersive experience for potential customers. These photographic tours blend drone panoramas and video footage with high-resolution ground panoramas, creating a comprehensive view of the space. Custom branding elements further reinforce a company's identity. Such tours enable businesses to transcend geographical barriers, making it easier for potential customers to explore their premises from anywhere in the world. This level of accessibility enhances engagement, trust, and decision-making, resulting in increased customer conversion rates. Whether it's a restaurant, a hotel, a real estate property, or a retail store, 360 virtual tours offer a competitive edge by providing an interactive and visually compelling glimpse of what the business has to offer, ultimately boosting its online presence and revenue.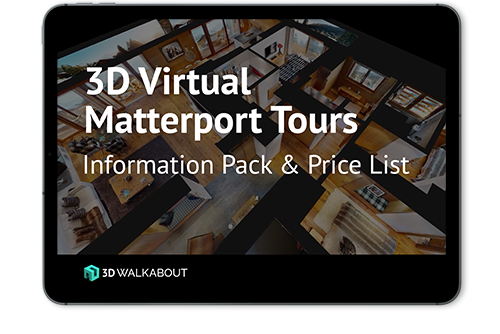 If you'd like to receive our full '360 Virtual Tours Information Pack & Price List' add your details below.
What are the benefits of using 360 virtual tours for businesses?
Enhanced Engagement: 360 virtual tours captivate potential customers, holding their attention longer and encouraging exploration.
Increased Conversions: By offering an immersive experience, businesses can convert more visitors into paying customers.
Global Reach: Overcome geographical limitations, allowing people from anywhere to virtually visit and engage with your location.
Transparency and Trust: Transparency is promoted as customers can explore the location thoroughly, fostering trust in your business.
Showcasing Features: Highlight specific features, decor, or amenities that set your business apart from competitors.
Time and Cost Savings: Reduce the need for physical site visits, saving time and resources for both customers and businesses.
Custom Branding: Incorporate branding elements to reinforce your business identity within the virtual tour.
Mobile Compatibility: Accessible on various devices, making it convenient for users to explore your location.
Interactive Marketing Tool: A unique marketing asset that can be embedded on websites and shared on social media to attract and engage potential customers.
Data Insights: Gather valuable analytics about user behavior within the virtual tour to refine marketing strategies and improve the user experience.
What are the benefits of 360 virtual tours?
Creating 360 virtual tours for businesses offers a multitude of benefits that can significantly enhance their online presence, customer engagement, and bottom line. These immersive experiences revolutionize how potential customers interact with and perceive a business, serving as a powerful marketing and informational tool.
360 virtual tours boost engagement. They captivate visitors' attention, encouraging them to spend more time exploring the premises. This prolonged engagement can increase the likelihood of conversion as customers become more acquainted with the offerings and atmosphere.
These tours transcend geographical barriers, offering a global reach. Prospective clients can visit the location virtually from anywhere in the world, making it a valuable asset for businesses targeting international audiences.
Transparency and trust are other key advantages. Virtual tours provide an authentic and unfiltered view of a business's facilities, fostering trust and confidence among customers. They can explore every nook and cranny, gaining a comprehensive understanding of the space.
Custom branding within the tours reinforces a business's identity, ensuring a seamless connection between the online and physical presence. It's an opportunity to showcase unique features, decor, or amenities that set the business apart from competitors, driving a distinctive brand image.
360 tours save time and costs by reducing the need for physical site visits. Users can explore a property at their convenience without the need for a physical visit. They are also mobile-compatible, accessible on various devices, making it convenient for users.
The interactivity of virtual tours allows them to be an exceptional marketing tool. They can be embedded on websites and shared on social media, attracting and engaging potential customers in a unique and compelling way.
Finally, data insights from user behavior within the virtual tour provide valuable analytics. These insights can refine marketing strategies and improve the user experience, making virtual tours a versatile and adaptive tool for businesses in various industries. Overall, the benefits of creating 360 virtual tours for businesses are numerous, ranging from customer engagement and trust-building to global accessibility and cost savings.
Frequently Asked Questions
How long does it take to 3D scan a house?
It takes around 90 minutes to a couple of hours before your digital Matterport 3D scan will be ready for use. The amount of time spent on a 3D home scan will depend on the size and complexity of your property, so contact us for a more precise estimate.
What is a 3D scan of a house?
A 3D scan digitalises a house setting which allows someone to manipulate the objects, colours and other properties of the rooms and then store them in digital format. This allows creatives and sellers to showcase their houses online to a remote audience or even use it for animated videos or games.
What is Matterport for real estate?
Matterport allows real estate companies to produce a 3D property scan of their buildings so they can be viewed by prospective buyers from the comfort of their screens. This can retain the atmosphere of the estate, capturing its luxurious design which you have worked hard to produce.
How much does a Matterport 3D tour cost?
Our Matterport 3D virtual tours start at $350. That's for a small space and the prices go up from there based on the total area, the complexity of the space and the exact location. To get an instant quote get in touch with our team today.
What is better than Matterport?
Matterport prides itself on being the best 3D software on the market. It works alongside hundreds of professionals who have made its software simple to use and accessible to any skill level, so making a virtual tour cannot be much easier. Its graphics are highly rendered and look almost real.
Is Matterport good for rental properties?
Rental properties can benefit from Matterport's VR tours just as much as any other type of property. Future tenants might be unable to visit the house, such as if they are a student on a placement year abroad, so you can provide them will a fully guided 360 virtual tour online.
Is Matterport worth it for real estate?
Matterport is fantastic when it comes to creating virtual tours for real estate. Not only can it create a virtual twin of the space you plan on having the property built, but it can also place a 3D model of the creation onto the land which is almost tangible.