We Create Beautiful 3D Al Fresco Renders
3D Walkabout is an Australian 3D creative studio that designs amazing 3D Al Fresco Renders to create the perfect outdoor space for commercial and residential property.
Complete your 3D home rendering work with professional al fresco renders from 3D Walkabout. We're an Australian 3D rendering studio and VR/CR creative industry priding ourselves on our high standard of workmanship, technological innovations, and passion for cutting-edge design. A 3D architectural render simplifies outdoor designs, builds and renovations, helping clients visualise the final result before work begins. Our rendering services encompass 3D product rendering, 3D animations, CGI building renders and more, providing opportunities to virtually walk through a design, give feedback and make changes with ease, and reduce any cost of alterations or rectifying errors. When you need quality 3D rendering Australia, 3D Walkabout is on hand to deliver outstanding results.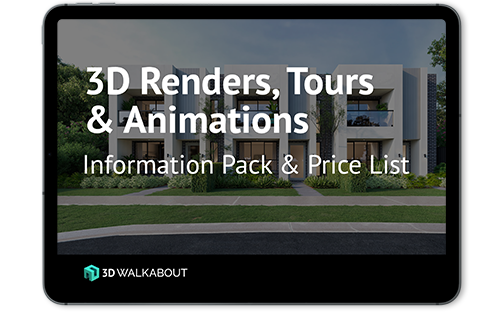 If you'd like to receive our full '3D Renders, Tours & Animations Information Pack & Price List' add your details below.
What are the benefits of 3D Alfresco Renders for your business?
Demonstrate your vision clearly, rather than imagining the final product
Simplify feedback, meaning changes and additions can be made easily
Saves time and money in planning the perfect outdoor space
Reduce design costs – no need for expensive physical models
Possibility to create various options without incurring any additional cost
Visualise your design from many angles, testing appeal and functionality
View your outdoor spaces with accurate lighting, darkness and shadows
View your design in relation to surrounding structures and buildings
Easily recognise and address any errors or mistakes in design
Project how your outdoor design will fit within a home
How 3D renders are currently being used to build the perfect outdoor living area
A 3D alfresco render can help designers and their clients create the perfect outdoor spaces. Professional 3D architectural rendering helps avoid mistakes that might compromise the plan or construction timeline. It allows for the creation of professional designs and for seamless building planning. 3D property renders are ideal ways of addressing how an outdoor living area will look – giving customers the most comprehensive picture of their final product.
Architects and designers are using 3D outdoor area rendering to prevent any design errors and to visualise the outdoor area from all points in order to address any mistakes or changes to the design. This gives their clients the clearest view of their design before construction work begins.
CGI alfresco rendering is also used as a successful marketing tool. Real estate marketers can use their 3D outdoor renders as part of a professional design portfolio, emphasising to clients their particular design process and values and presenting compelling projects designed to attract new work.
Frequently Asked Questions
Can businesses in the food and beverage industry benefit from 3D renders of alfresco areas?
Yes! Restaurants, cafes, and bars can use 3D renders of alfresco areas to showcase their outdoor seating arrangements, creating an enticing visual representation of the dining experience and attracting customers.
How do 3D renders of alfresco areas enhance businesses' marketing efforts?
It provide businesses with visually compelling marketing materials. These renders can be used on websites, social media, and promotional materials to showcase the beauty and functionality of outdoor spaces, attracting customers and setting businesses apart from competitors.
How can businesses in landscaping and outdoor design utilize 3D renders of alfresco areas?
Landscaping and outdoor design businesses can use 3D renders of alfresco areas to showcase their expertise in creating stunning outdoor environments. These renders allow clients to visualize the potential of their alfresco spaces and make informed decisions about their landscaping projects.
How do 3D renders of alfresco areas assist businesses in the real estate sector?
Real estate businesses can leverage 3D renders of alfresco areas to showcase properties with desirable outdoor spaces. These renders allow potential buyers or tenants to visualize how they can utilize and enjoy the alfresco areas, adding value and increasing interest in the property.
In what ways can businesses in the hospitality industry use 3D renders of alfresco areas?
Hospitality businesses can utilize 3D renders of alfresco areas to showcase their outdoor dining spaces, bars, or lounges. These renders enable potential customers to envision themselves enjoying the inviting atmosphere and increase the appeal of the establishment.
How can 3D renders of alfresco areas benefit businesses?
Alfresco areas offer businesses a powerful tool to showcase outdoor spaces, helping attract customers and clients by providing realistic visualizations of the ambiance, layout, and design possibilities.