3D Rendering Melbourne
Our Melbourne 3D rendering service specialises in creating beautiful 3D renders for a wide range of businesses across Victoria.
Welcome to our Melbourne 3D Rendering Service, your ultimate destination for exceptional 3D architectural visualisations. We specialise in creating photorealistic CGI renders, captivating 3D architectural animations, and immersive 'Off-plan' 360 panoramic tours for Melbourne's home builders, architects, interior designers, and real estate agents. Our skilled team of professionals is dedicated to bringing your visions to life with meticulous attention to detail, showcasing every aspect of your project with unmatched realism. With our affordable competitive pricing and efficient turnaround times, we ensure your projects receive the attention they deserve while staying within your budget and schedule. Elevate your designs and impress your clients with our cutting-edge 3D visualisation services in Melbourne.
What types of 3D renders are you looking for?
What are the benefits of 3D Renders for your business in Melbourne?
3D renders, architectural animations, and 360 panoramic off-plan tours provide visually stunning representations of properties, capturing attention and generating interest among potential buyers.
These visual tools allow businesses to showcase the design and layout of properties, highlighting their unique features and helping buyers envision themselves in the space.
Photorealistic 3D renders and animations offer a lifelike representation of properties, providing an accurate visual representation that helps buyers make informed decisions.
360 panoramic off-plan tours allow potential buyers to take virtual tours of properties, providing an immersive experience that simulates being physically present in the space.
Engaging visuals such as 3D renders and animations are highly shareable on social media platforms and property listing websites, attracting a larger audience and increasing the chances of property inquiries.
Utilising these advanced visual tools sets Melbourne businesses apart from competitors, demonstrating a commitment to innovation and delivering a superior marketing experience.
These technologies eliminate the need for physical staging and multiple on-site visits, saving businesses time and costs associated with traditional marketing methods.
3D renders and animations allow businesses to market properties before construction or renovations are complete, enabling pre-sales and securing commitments from buyers in advance.
Customisation and Personalisation: These visual tools can be tailored to the specific branding and style preferences of Melbourne businesses, ensuring a consistent and personalized marketing approach.
By providing realistic visual representations and detailed insights into properties, businesses can boost buyer confidence, resulting in higher conversion rates and increased property sales.
How are 3D renders currently being used by Melbourne based Businesses?
In Melbourne, businesses are utilising 3D renders to market and sell off-plan properties in various industries. Home builders, property developers, real estate agents, and interior designers are among the key users of 3D rendering services. With detailed elevation renders, businesses can showcase the architectural design and exterior features of properties, allowing potential buyers to visualise the finished product. Interior renders play a crucial role in presenting different spaces, such as living areas, bedrooms, bathrooms, and kitchens, in a realistic and visually appealing manner.
These renders help buyers understand the layout and design possibilities, creating an emotional connection to the property. Bathroom and kitchen renders highlight the intricate details and finishes, demonstrating the potential for a luxurious and functional space. Streetscape renders provide an overall view, illustrating how the property integrates with the surrounding neighborhood. These renders offer valuable insights into the property's location and its visual impact.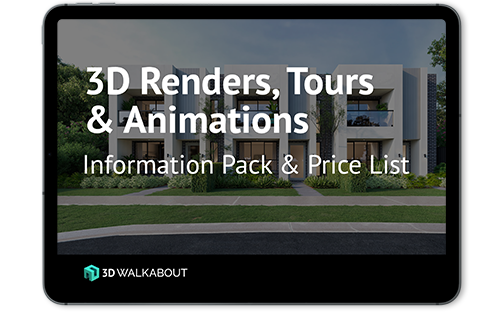 If you'd like to receive our full '3D Renders, Tours & Animations Information Pack & Price List' add your details below.
Frequently Asked Questions
Why are 3D renders important for home builders?
3D house rendering offers many benefits for home builders. They showcase the full potential of a future home, giving precise visualisation of the project even before it begins. With a 3D house render, clients will avoid unwanted surprises and last-minute changes, and potential issues will be resolved before they become too difficult or expensive to fix.
How is 3D rendering used in architecture?
3D home rendering of an architectural design allows professionals to showcase their projects and communicate ideas long before the building gets underway. Architects can use 3D home renders to interact with their clients, other industry or design professionals, and the wider public, ultimately making the technical aspects of a project easier to understand.
What is 3D product visualisation?
3D product visualisation presents a product through 3D modelling and a virtual environment so that the product perfectly replicates its original version. Unlike 3D rendering, product visualisation goes beyond still 3D imagery, incorporating animations, panoramas, applications, and many other forms.
Which software is used for 3D rendering?
3D animations and rendering can be completed through CPU computation, hardware rendering with your computer's video card, vector rendering, and cloud-based technology. There are many types of rendering software available on the market; these include Autodesk cloud rendering, Alias, Revit and Maya.
What is the difference between 3D rendering and 3D modelling?
The key difference between 3D rendering and 3D modelling is their processing within CGI. 3D modelling must occur before an image or object can be rendered, as modelling gives your computer the information it needs regarding size, shape and texture.
How is 3D rendering done?
There are several steps in the process of 3D rendering. Before the design is created, an agent will gather all the information they need regarding the building plans, fittings and fixtures. Using this information, they'll create a white 3D model of the design which can be easily edited. Textures and materials are added before final changes are made.
What is the purpose of 3D rendering?
3D rendering is employed to provide dynamic, high-quality visuals. It's particularly useful in real estate and interior design. 3D property renders allow potential buyers or clients to walk through a property, to view a realistic image of a redesigned space, or to settle on decisions and designs much more quickly and easily.
What is meant by 3D rendering?
3D rendering involves the creation of a 2D image from a 3D digital scene using computer software, specific gear, and specialised techniques. Images are generated using data specifying every element's texture, colour and material. 3D rendering is, therefore, a detailed process incorporating clearly defined steps.
What are the payment terms?
Once we have given you a custom quote and you have informed us you are happy to go ahead we will issue an invoice and you will be required to pay a 50% deposit payment. Once we receive the deposit we'll get started. After you have reviewed the final draft (watermarked) renders and confirmed you are happy then the remaining 50% balance is payable. As soon as this is received we'll send out the final high resolution production version 3D renders.
Will my renders be suitable to print?
Yep. All the 3D renders we create are a very high resolution and suitable to print in most marketing material. The exception may be if you want them REALLY big, like the side of a building big. Often printing to this size will need vector based files. In that case be sure to let our team know at the start and we'll adjust our workflows accordingly to accommodate this. It may cost a little extra but not too much. Be sure to sends us photos of the renders in location, it gives our designers a real boost to see their artwork blown up that big!
Do I need to submit CAD files to get a quote?
Nope. For a quote we just need 2D images so you can send those in any format – PDF, JPG, PNG, whatever. Along with the drawings we'll need any associated documentation in regard to what you are looking for, the landscaping, site plan and surrounding area/address if important. We should then be able to give you a custom quote the same day as receiving your files and can then get started immediately if you want to go ahead.
Do you work inter-state and internationally?
Yes. We have offices in all Australian major metro areas including; Sydney, Melbourne, Perth, Brisbane and Adelaide. We offer 3D rendering services to clients nationwide and abroad. 99% of our business is done online, by email and over the phone and face-to-face meetings are rarely required. We have payment options in every major currency and can take payments by credit card or bank transfer. So wherever you are in the world get in touch and we can help create some awe-inspiring 3D renders for your business.
What types of renders do you offer?
We are a 3D rendering studio and as such we essentially offer every type of 3D render you can think of for all types of architectural structures. These include; interior renders, elevation renders, commercial renders, 360 panoramic renders, 3D floor plans and photomontages. As far as building types we've pretty much done renders for every building type imaginable, these include; house renders, apartment renders, multi-unit renders, industrial renders and more.
What is the turnaround time?
The usual turnaround time for 3D renders is 2 weeks once we have received all the documentation and files required. If you have an urgent project then this time frame can be expiated to 1 week, we'll just have to limit the amount of revisions possible.
Can you model the surrounding area?
Yes, of course! Please just let us know when making your initial enquiry and we'll request the details and provide a quote. The surrounding landscape can just be modelled as a generic environment eg suburban, urban, etc or we can match exact site plan landscaping details if required. In fact when we create external 360 panoramic renders we always model the surrounding area.
What are the 3D rendering prices?
Prices for 3D renders start from just a few hundred dollars. If you would like to receive a price list then just get in touch and we'll send one across.
Why choose 3D Walkabout?
Because we're the best! No seriously we offer premium quality photorealistic architectural 3D renders at very affordable rates. We work with many of Australia's leading home builders, property developers and real estate agents and have completed thousands of renders to date. We also offer a personal, no hassle, customer service and we're proud to say we've never had a client who wasn't happy with what we have produced.