We Create 360 Panoramic Rendered Tours
3D Walkabout is an Australian 3D creative studio that designs amazing 360 Rendered Virtual Tours. A fantastic way to walkthrough and explore an off-plan property design.
360 Virtual Rendered Tours
A 360 rendered virtual tour of a future planned space can give your clients a much greater insight into a space than standard renders. Our CGI artists model the space using the same workflow but then capture 360 panoramas from set positions, these are then put together into a 360 virtual tour. The end result is a browser-based tour that will work from any device and allow the viewer to explore the space and look in any direction. These tours can also be viewed in VR through a headset in the browser. Our team will provide an easy link for you to share or upload to real estate portals plus an embed code (iFrame) that you can use to publish the tour on your own website. Take a look at some of the examples below and contact us for a quote. 
360 Rendered Panoramic Tours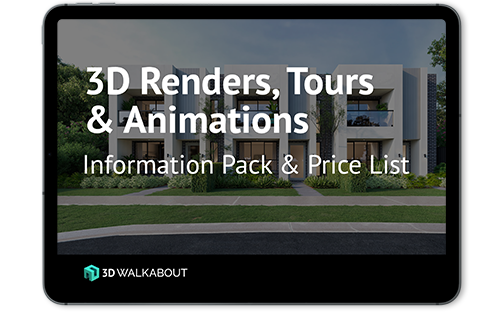 If you'd like to receive our full '3D Renders, Tours & Animations Information Pack & Price List' add your details below.
What are the benefits of using 360 virtual tours to market off-plan property designs
Let the client envisage the final product
Demonstrate the vision for the house
Establish the layout of the building before it is constructed
Create an experience for the customer
Build a connection between the consumer and the potential home
Accurately replicate what the final outcome will be
Increase interest in buildings under construction
Boost marketing strategies and bring in a new client base
Create interest in your brand
Improve brand image and therefore loyalty
What are the benefits of 360 off-plan virtual tours?
360 off-plan virtual tours provide a more immersive experience compared to static 3D renders. Users can navigate through the space, exploring different angles and perspectives, giving them a realistic sense of being present in the property. This immersive experience can create a strong connection with the property and enhances the overall engagement of potential buyers.
360 virtual tours offer a more realistic spatial understanding of the property. Potential buyers can get a better sense of the room proportions, transitions between spaces, and the overall flow of the property. By virtually walking through the property, they can assess how the spaces connect and visualise themselves in the environment.
Users can zoom in, pan around, and view the property from multiple levels or angles. This level of interactivity allows potential buyers to examine specific details, focus on areas of interest, and have a more comprehensive understanding of the property. It also provides a dynamic and engaging experience that keeps users actively involved.
By experiencing the property virtually, they can assess the functionality and design elements, visualise how the space will fit their specific needs, and evaluate if it aligns with their preferences. This leads to more confident decision-making and reduces the need for physical visits to multiple properties.
Virtual tours can help to enhance your marketing efforts. They provide a competitive edge in the market, as they are highly engaging and shareable. Virtual tours attract a larger audience and generate more interest in the property development, leading to increased visibility and potential sales.
Frequently Asked Questions
How much do 360 panoramic tours cost?
Well, we just charge by the number of renders and then create and host the actual tour for free. To get a quote we just need to know how many panoramas you want and from which positions then we can give you an instant quote. They are much more affordable that you probably think and by far the cheapest way to create a VR experience for an off-plan space.
Can I interact with a 360 off-plan virtual property tour?
Yes, one of the key advantages of 360 off-plan virtual property tours is the interactivity they offer. You can interact with the virtual tour by zooming in or out, panning around the rooms, and exploring different areas of the property by clicking on hotspots. This level of interaction allows you to examine details and features, providing a more comprehensive understanding of the property.
What are the benefits of a 360 off-plan virtual property tour?
They allow you to experience the property remotely, saving time and travel costs. You can explore every corner of the property, assess its layout, size, and design, and get a realistic understanding of the space. Virtual tours also enable better decision-making by giving you the ability to visualise how the property will suit your needs and preferences.
How can I access a 360 off-plan virtual property tour?
You can access a 360 off-plan virtual property tour through any device in the browser. All you need is an internet connection and the link to the virtual tour. They are also really easy to add to your own website or property portals like realestate.com.au and domain.com.au
What is a 360 off-plan virtual property tour?
A 360 off-plan virtual property tour is a digital representation of a property that allows potential buyers to explore and navigate through the space using interactive 360-degree panoramic views. It offers a realistic and immersive experience that helps buyers visualize the property before it is constructed or completed.