We Create Beautiful 3D Bathroom Renders
3D Walkabout is an Australian 3D creative studio that designs amazing 3D Bathroom Renders for commercial & resedential property.
If you've ever wanted to simplify interior design or minimise the cost of amendments and changes, now you can with quality 3D bathroom rendering from 3D Walkabout. We're an Australian 3D rendering studio and VR/CR creative industry passionate about the use of cutting-edge technology to deliver impressive 3D renders. 3D property renders of your bathroom space will simplify design alterations and revisions, help your clients envision the finished results before building commences, and encourage an emotional connection with and greater confidence in the finished product. Through our combination of 3D architectural rendering, 3D product rendering, and 3D animations, our 3D rendering service offers designers and their clients the freedom of design walkthrough and project changes. For quality 3D rendering Australia, 3D Walkabout is on hand to deliver outstanding results.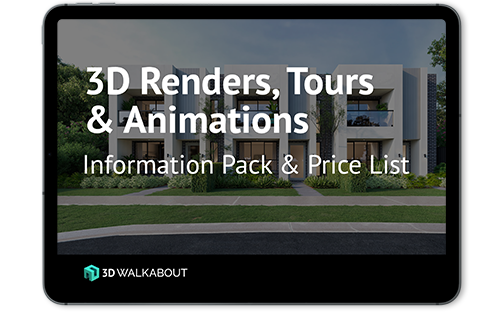 If you'd like to receive our full '3D Renders, Tours & Animations Information Pack & Price List' add your details below.
What are the benefits of 3D Bathroom Renders for your business?
Simplifies collaboration between builders and architects, easing issues with design
Reduces the cost of alterations or rebuilds with photorealistic visualisations
Streamlines the design process, helping all parties visualise final results
Gives clarity regarding all elements of materials, design, and colours
Minimises any misunderstanding or miscommunication between architect, designer and client
Presents streamlined, straightforward marketing solutions on online and offline channels
Strategic marketing and promotion of 3D renders generate more sales
Speeds up conversions and prevents price reductions with market fluctuations
Provides greater depth and background to your project development applications
Simplifies approvals processes by reducing the number of design revisions
How to make the perfect selections using 3D bathroom renders
3D bathroom renders allow design ideas to be clearly articulated and understood by both designer and client. They help clients to get the full picture of how their bathroom project will look once it's done. CGI bathroom renders go beyond 2D sketches or drawings; they present the bathroom design in a three-dimensional view. This sort of visualisation allows clients to review and refine their design choices, whether they be tiling options, colour schemes, furnishings and fixtures, or anything else needed to complete the space. This ensures homeowners and renovators can be confident they'll end up with the perfect bathroom space.
If flaws or issues are identified in the design, a 3D ensuite render allows these to be easily and quickly resolved, reducing the risk of costly reconfigurations and amendments down the line. As a result, the design and build process will be allowed to proceed without significant delays or hurdles, and clients can have the confidence and assurance their bathroom will meet their particular requirements and preferences.
Frequently Asked Questions
How does 3D rendering benefit bathroom renovation projects?
3D rendering is highly beneficial for bathroom renovation projects. It provides clients with a visual representation of the proposed changes, allowing them to make informed decisions about layout modifications, fixture upgrades, color schemes, and material selections. This helps ensure that the renovation meets their expectations and avoids costly surprises during construction.
Is it possible to see realistic material finishes and textures in 3D bathroom renders?
Yes, 3D rendering allows for the realistic depiction of material finishes and textures in bathroom renders. From tile patterns and wood grains to metal finishes and glass reflections, the rendering can showcase a wide range of materials, giving clients a clear understanding of how they will look in the final design.
Can 3D rendering showcase different bathroom styles and themes?
Absolutely. 3D rendering is versatile and can showcase various bathroom styles and themes. Whether it's a modern, traditional, minimalist, or luxury bathroom, the rendering can accurately represent the chosen style, including fixtures, surfaces, textures, and decorative elements.
How can 3D rendering enhance the bathroom design process?
3D rendering greatly enhances the bathroom design process by providing a realistic preview of the proposed design. It helps clients visualize different layout options, select appropriate fixtures, evaluate material choices, and understand how lighting and colors will interact in the space.
What is 3D rendering for bathroom renders?
3D rendering for bathroom renders is the process of creating realistic and detailed visual representations of bathroom designs using computer-generated imagery. It allows designers and clients to see an accurate depiction of the proposed bathroom layout, fixtures, materials, and finishes.