We Create Beautiful 3D Bedroom Renders
3D Walkabout is an Australian 3D creative studio that designs amazing 3D Bedroom Renders for residential property.
When your business is in the market for professional, innovative 3D bedroom rendering, choose 3D Walkabout. We're an Australian 3D rendering studio and VR/CR creative industry with a passion for helping clients experience the future of technology. 3D bedroom renders make home renovations and designs easier, as clients are able to visualise the finished result even before any of the physical work begins. Incorporating 3D architectural rendering, 3D product rendering, and 3D animations, our rendering services provide opportunities to explore a design virtually, make changes with ease, and minimise the cost of alterations or the impact of errors. For quality 3D rendering Australia, 3D Walkabout is on hand to deliver quality results.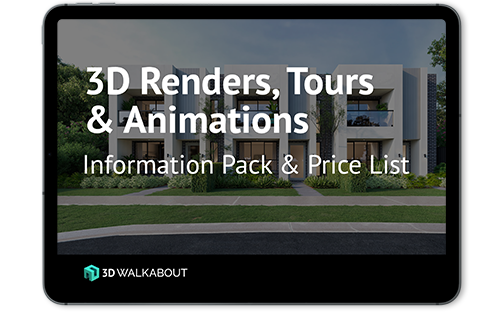 If you'd like to receive our full '3D Renders, Tours & Animations Information Pack & Price List' add your details below.
What are the benefits of 3D Bedroom Renders for your business?
Give your clients an accurate taste of their finished project
Encourage effective communication, optimal workflow, and strong customer service
Prove to prospective clients what your company is capable of
Market your business with innovative promotional strategies
Present to your clients how their ideal design elements interact
Facilitate work easily, without waiting for construction or materials
Present precise depictions of ideas for effective client feedback
Saves money and time when it comes to marketing/p>
Easily shared on social media, for wider audience reach
Emphasise your business' strengths, productivity and innovation
How 3D bedroom renders can help you make the right interior design decisions
A 3D bedroom render can guide the interior design process, simplify designer-client communications, and achieve the ideal results homeowners can be proud of. A 3D render brings a client's ideas or dreams to life, allowing them to be visualised before any building begins or changes are made. 3D house renderings can offer an accurate view of the layout of their room, and how it may be impacted by the placement of particular items. These renders can also help clients visualise particular fixtures and how they might match the tone and feel of their space.
Colour and theme are significant bedroom elements, and 3D home rendering will provide clients with an idea of the best design choices for their homes. Designers can also use rendering to suggest which paint is used, even before changes are made. Once colour and theme are decided, it's important to consider furniture and its placement. 3D product rendering gives clients a visualisation of their space based on different furniture choices and placements.
Frequently Asked Questions
Can 3D renders for bedrooms be used in interior design portfolios?
Yes!Including 3D renders for bedrooms in your interior design portfolio allows you to showcase your expertise and the quality of your work. These renders provide a compelling visual representation of your design skills and can attract potential clients to your portfolio.
How do 3D bedroom renders contribute to project approvals?
They offer realistic visuals that aid stakeholders, investors, and decision-makers in envisioning the final result, building support for the project.
Can 3D bedroom renders be used for marketing purposes?
Yes, They are powerful marketing tools that visually communicate your design expertise and captivate potential clients.
Can 3D bedroom renders be customised to match specific design preferences?
Yes! It can be tailored to reflect furniture choices, color schemes, and lighting preferences to personalize the design.
How can 3D renders for bedrooms benefit my business?
It can benefit your business by visually showcasing your design capabilities, attracting clients, and increasing your chances of securing new projects.