We Create Beautiful 3D Floorplan Renders
3D Walkabout is an Australian 3D creative studio that designs amazing 3D floorplannt for home, office, or commercial.
3D floor plan renders are a great, contemporary piece of technology that can be seen as beneficial for many reasons. They essentially allow you to see a visual depiction of your property plans beforehand. They are accurate and detailed which allows you to see your ideas in person before investing your time and money. This can help with ensuring there are no issues or complications at later stages which may cause costly issues. 3D rendering services are growing wildly popular in Australia for property developers and its 3D animations is a great addition to the home and architectural market.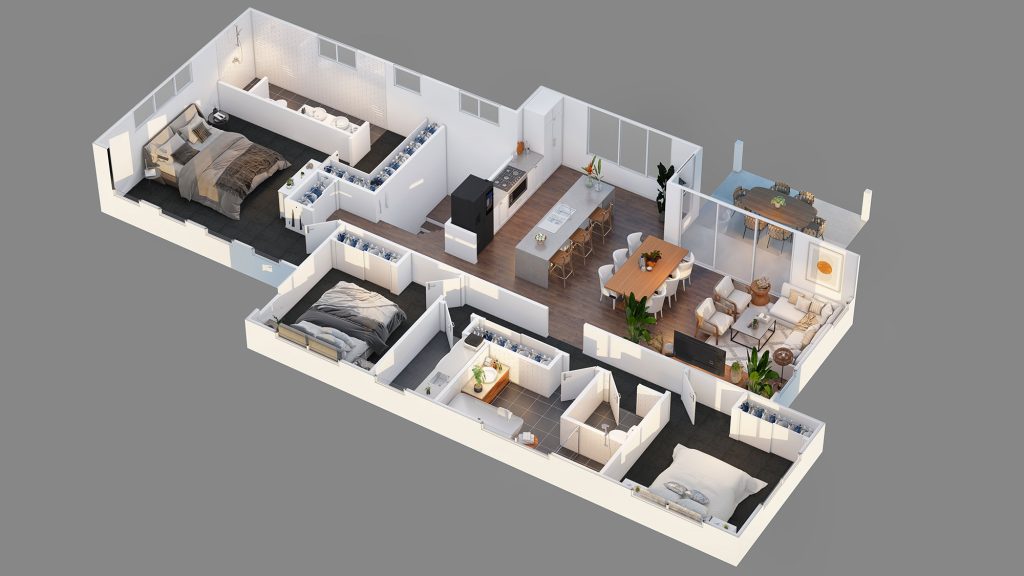 2D Coloured Floorplan Renders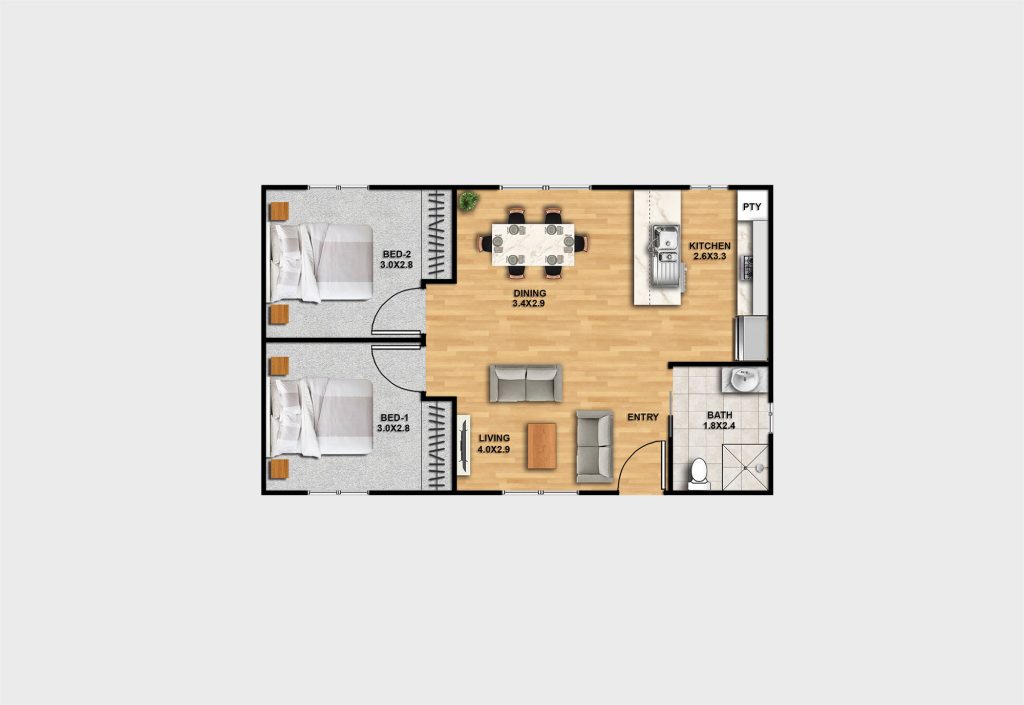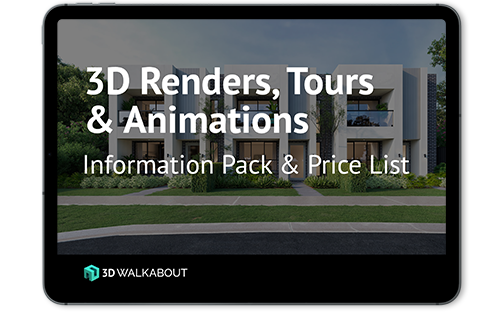 If you'd like to receive our full '3D Renders, Tours & Animations Information Pack & Price List' add your details below.
What are the benefits of 3D Floorplan Renders for your business?
Offers accurate walkthroughs to attract potential buyers ahead of developments
Highlights any potential issues before they become costly to fix
3D rendering in Australia allows potential buyers to fully understand their plans in a real and accurate way
Reaches more audiences as they can be easily shown and sent around the world
Is inviting and engaging for potential buyers
Increases opportunities for external purchases and developments as the plans can be seen off-site
Affordable and will be more cost-effective avoiding major funding needs upfront and in the future
Gives direct insight and acts as a stronger marketing technique
More enticing and shows the legitimacy of the company
Brings the visions to life making the property designs look better and sell better
How 3D floor plan renders can bring your 2D plans to life?
3D floor plan renders are essentially the next upgraded evolution of your 2D plans. With your 2D plans, you can see your property development design from a birds-eye view. This is good in the sense that you can visualise all of it on one document and see it from a point of view you otherwise couldn't. 2D plans are a good starting point for property developers and allow them to lay out the infrastructure. However, with 2D plans, there is a certain gap between the designer and the visualisation of their designs. 3D floor plan renders bridge this gap by bringing the designs that bit closer to reality.
3D floor plan renders and 3D rendering services in Australia bring your 2D plans to life by essentially fulfilling your ideas with a realistic and insightful walkthrough highlighting the potential of your designs. With 2D plans you can see the vision, with 3D it becomes more of a reality and allows you to immerse yourself in the realism of the property you're developing. It will enhance any understanding you had of your 2D plans and bring you more into the world of property design and development. This is a great way to improve your development plans and visualise your designs accurately.
Frequently Asked Questions
How can 3D floor plan renders aid in interior design and remodeling projects?
3D floor plan renders provide a visual platform for interior designers and remodelers to experiment with different layout options, furniture placements, and design elements. It helps clients visualize the potential outcome and make informed decisions about their project.
Can 3D floor plan renders incorporate accurate measurements and dimensions?
Absolutely! 3D floor plan renders can be created to scale, ensuring accurate measurements and dimensions are represented. This is particularly useful for architects, designers, and builders who need precise information for planning and construction purposes.
Can 3D floor plan renders be customized according to specific design preferences?
Yes, 3D floor plan renders can be customized to reflect specific design preferences, such as furniture styles, color schemes, and finishes. This allows clients to see how different design choices will look in the space before making final decisions.
How can 3D floor plan renders benefit the real estate industry?
3D floor plan renders offer a compelling way to showcase and market properties. They provide a clearer understanding of the layout, flow, and design of a space, helping potential buyers or tenants visualize themselves in the property and make informed decisions.
What is a 3D floor plan render?
A 3D floor plan render is a visual representation of a floor plan that is created using 3D rendering techniques. It provides a realistic and immersive view of the interior space, including walls, furniture, fixtures, and decor.
Is a 3D ploor plan better than a 2D floor plan?
Although they both have great qualities and will advance the proceedings of your property development individually, yes a 3D floor plan is better than a 2D floor plan. With 3D home and property renderings, you get a more accurate depiction of the layout, furnishings and overall look and functionality of your design. With 3D you gain more accurate insight which will allow you to better and continue forward with your design with more understanding and ideas.