We Create 3D Garage & Workshed Renders
3D Walkabout is an Australian 3D creative studio that designs amazing 3D Garage & Workshed Renders.
3D Garage & Workshed Renders
3D workshed renderings are a great way to showcase your business. Whether you're looking to show off your new products or just want to give potential clients a preview of what they can expect, walkabout renderings are the perfect way to do it. They're also an excellent way to increase sales; you can use them in your marketing campaigns and include them in sales presentations. With 3D Walkabout for 3D renders in Australia, we'll create stunning visualisations that will help you sell more by showing off your products or services in an entirely new way.
3D Garage & Workshed Renders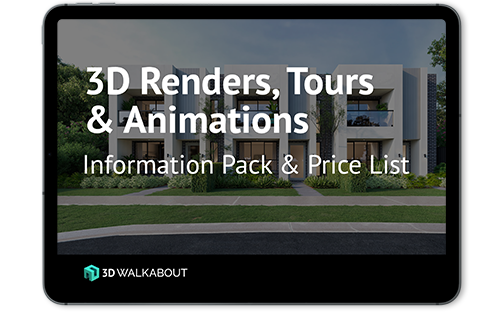 If you'd like to receive our full '3D Renders, Tours & Animations Information Pack & Price List' add your details below.
What are the benefits of 3D Garage & Workshed Renders for your business?
Used to sell your product and generate interest from customers
The ability to easily show the client what their finished product will look like, without needing to create full physical models
The ability to create a virtual walkthrough of a space and show how it will look and feel with furniture, fixtures, and other objects in place
The ability to create realistic visualisations of spaces that you can use for marketing purposes
Reduce environmental impact
Helps you save money as you can avoid costly errors in design
A more immersive experience for viewers
Enables you to create more realistic visuals of your products and buildings
Easy to prepare for meetings by adding notes and dimensions
Easily share designs with your team
3D renders can help your customers visualise your workshed designs
3D man shed renders can help your customers visualise your workshed designs. Homes, offices, and retail spaces all need a place to store their tools and equipment. But when it comes to designing these spaces, it can be difficult for customers to picture what the final product will look like. That's where 3D rendering comes in. They create an image of your product that you can use to demonstrate its functionality and style. The result is an immersive experience for both you and your client that helps them better understand what they're getting for their money.
With 3D Walkabout, you can create custom 3D models, 3D animation, 3D property renders and 3D house renders using photographs from our library or by providing us with drawings of your workshed design. Our team of designers will then take those images and convert them into a virtual reality environment that shows off every detail of your product. This VR experience is perfect for showing clients how their future workshed will look inside their home or office so that they know exactly what they're getting before committing to something new!
Frequently Asked Questions
How do workshed and garage renders contribute to better customer engagement and satisfaction?
It brings to life, enabling customers to vividly visualize the functionality and suitability of the products
Can workshed and garage renders support businesses in providing customised solutions to their customers?
Yes! They enable businesses to showcase a wide range of customization options, including size, layout, doors, windows, and additional features. This empowers businesses to provide tailored solutions to their customers, meeting their specific requirements and preferences.
How do workshed and garage renders help businesses save time and resources during the sales process?
By showcasing realistic representations of worksheds and garages, renders allow potential customers to visualize the end result without the need for physical samples or site visits. This saves time and resources for both businesses and customers, streamlining the sales process and expediting decision-making.
How can workshed and garage renders assist businesses in marketing and advertising their products?
Workshed and garage renders provide businesses with high-quality visuals that can be used in marketing materials, websites, and promotional campaigns. These renders effectively capture the design, features, and benefits of the products, attracting more attention and generating increased interest from potential customers.
In what ways do workshed and garage renders help businesses showcase their range of products and customisation options?
It allows businesses to visually demonstrate the various products and customization options available. These renders effectively showcase different sizes, layouts, materials, and additional features, enabling customers to envision their ideal workshed or garage and make informed purchasing decisions.
How can workshed and garage renders benefit businesses in Australia?
It provide businesses with visually appealing representations of their offerings, showcasing the design, functionality, and potential uses of these spaces. This helps attract potential customers, increase engagement, and ultimately drive sales.