We Create Beautiful 3D Granny Flat Renders
3D Walkabout is an Australian 3D creative studio that designs amazing 3D Granny Flat Renders.
3D Walkabout is a leading 3D rendering service company that can help you develop high-quality 3D rendering in Australia. We're proud to offer our services to a wide range of clients, including architects, interior designers, and property developers. We understand that each project has its unique challenges, which is why we work closely with you to ensure that your 3D tiny house renderings are exactly what you want them to be. Our team of experts also has extensive experience in creating 3D granny flats from scratch using our highly advanced software. Our toolkit includes everything from exterior designs for detached homes to interiors for apartment buildings and condominiums.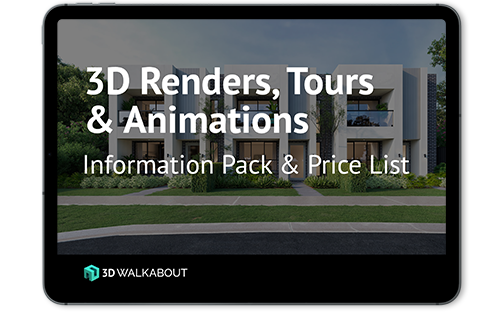 If you'd like to receive our full '3D Renders, Tours & Animations Information Pack & Price List' add your details below.
What are the benefits of 3D Granny Flat Renders to market off-plan designs
Let buyers visualize how their new home will look in its surroundings
Help buyers see how their new home will fit into the neighbourhood and community
Give potential buyers insight into how much space they'll have inside their new home
Being able to show the interior design and fixtures without needing to wait for construction
Being able to show different options for different rooms
A more realistic view of what the final product will look like
Save money on marketing materials
Makes it easier to show potential buyers the property
Catch people's attention as well as build trust with clients
Used on a variety of platforms such as YouTube and Facebook
How 3D renders can help you build the perfect granny flat design
When you're building a granny flat, you want to make sure you get it right the first time. You don't want to spend all that money on a home only to find out later that it isn't what you wanted or wasn't built correctly. With 3D studio renders, you can see exactly how your new home will look before construction even starts.
You'll be able to see how the design of your granny flat will look from every angle, including the inside and outside of the structure itself. This will help you make sure that everything is going according to plan and that there won't be any surprises during construction like unexpected costs or delays due to poor planning. The 3D renderings and 3D animations also give you an idea of what kind of features might work well in this type of structure when it comes time to choose flooring materials or paint colours. A 3D property allows for easy planning and design changes before construction begins, saving time and money in the long run.
Frequently Asked Questions
Can 3D renders depict the integration of granny flats with the existing property?
Yes, 3D renders can showcase the integration of the granny flat with the main property, including exterior finishes, roofline, landscaping, and pathways. This provides clients with a comprehensive visual representation of how the granny flat fits into the overall property design.
How does 3D rendering assist in optimizing space utilization in granny flats?
3D rendering enables designers to optimize the use of limited space in granny flats. Clients can see how furniture, storage solutions, and room arrangements maximize functionality and create a comfortable living environment within the available square footage.
Can 3D renders showcase different granny flat configurations?
Yes, 3D renders can showcase various granny flat configurations, such as different room layouts, kitchen designs, bathroom setups, and living area arrangements. Clients can explore different options and customize the space to meet their specific needs and preferences.
How can 3D rendering benefit the design process for granny flats?
3D rendering allows clients to visualize the granny flat design in detail, including exterior features, interior layout, and furniture placement. It helps in assessing the functionality, aesthetics, and overall appeal of the living space before making final decisions.
What is a granny flat render?
A granny flat render is a visual representation of a self-contained living unit typically built on the same property as a primary residence. It showcases the design, layout, and aesthetics of the granny flat before construction begins.