We Create Beautiful 3D Kitchen Renders
3D Walkabout is an Australian 3D creative studio that designs amazing 3D Kitchen Renders for residential & offices.
When you need an innovative, comprehensive 3D kitchen render, choose 3D Walkabout. We're an Australian 3D rendering studio and VR/CR creative industry thriving on technological developments and cutting-edge design. Our 3D kitchen renders take the hassle out of home renovations, designs and builds, helping clients picture the finished product even before work begins. With 3D architectural rendering, 3D product rendering, and 3D animations, our kitchen rendering services provide opportunities to explore an interior design virtually, make changes with ease, and minimise the cost of alterations or the impact of errors. For quality 3D rendering Australia, 3D Walkabout is on hand to deliver outstanding results.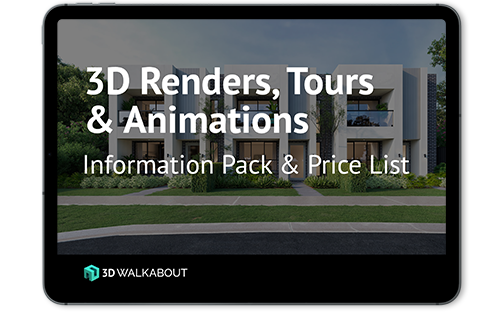 If you'd like to receive our full '3D Renders, Tours & Animations Information Pack & Price List' add your details below.
What are the benefits of 3D Kitchen Renders to get customer sign-off
Make style and design adjustments with ease, and without costly alterationss
Stage the projected design to present a client's dream kitchen
Let clients interact with the design, assessing functionality and convenience
Add in all kitchen fixtures and appliances without the expense
Present high-quality 3D imagery with professional realism and detail
Develop a range of design and style options to choose from
Allow for designs to be professionally reviewed for compliance measures
Identify and make any changes before kitchen construction work begins
Present kitchen aesthetics and furnishings in different settings and lighting levels
Encourage clients to develop an emotional connection with their dream design
How 3D kitchen renders are currently being used by interior designers
3D kitchen renders are a true asset within the interior design process. They give designers the opportunity to create realistic lifestyle images of a kitchen space without the need for costly sets and props. 3D kitchen renders could include furniture designs, home decor, and even food props. CGI home renders are also a great tool for kitchen furniture manufacturers and retailers. To make a sale, it's important customers have access to reliable images and professional close-ups to give them the confidence the furniture, fixture or fitting is made to last. Rendering can emphasise in detail even the smallest knobs, taps or faucets for customer satisfaction. Close-ups are also important when designing, manufacturing and selling cabinetry and countertops, and 3D renders of stone, wooden surfaces and chrome appliances can give customers the assurance they're making a quality design choice and purchase.
Homebuilders and renovators alike want to ensure their kitchen space is functional. While there's a great benefit in a physical walkthrough of a space, 3D kitchen rendering goes a long way in depicting form, function and flow, and showcasing the kitchen space at different times of day and in different levels of lighting. 3D rendering can be used to show how doors close, how kitchen cabinetry and fixtures are made, and how much they can store and hold. This helps customers to understand how their kitchen elements will work together, and how usable their kitchen is both day and night.
Frequently Asked Questions
How does 3D rendering benefit kitchen remodeling and renovation projects?
3D rendering is highly beneficial for kitchen remodeling and renovation projects. It provides clients with a clear visual understanding of the proposed changes and allows them to make necessary adjustments before construction begins. This reduces the risk of costly mistakes and ensures that the final result meets their expectations.
Is it possible to see realistic lighting effects in 3D kitchen renders?
Absolutely. 3D rendering enables the simulation of realistic lighting effects in kitchen renders. Designers can showcase different lighting scenarios, including natural light, ambient lighting, and task lighting, allowing clients to see how the kitchen will look and feel under different lighting conditions.
Can 3D rendering help in visualizing different kitchen configurations and options?
Yes, 3D rendering is perfect for visualizing different kitchen configurations and options. It allows for easy exploration of various layout possibilities, cabinet designs, appliance placements, countertop materials, and color schemes. This helps clients to better understand and choose the options that best suit their needs and preferences.
How can 3D rendering enhance the kitchen design process?
3D rendering offers great advantages for the kitchen design process. It enables designers and clients to see a realistic representation of the proposed kitchen design, helping them make informed decisions about layout, color schemes, material choices, and lighting before construction or renovation begins.
What is 3D rendering for kitchen renders?
3D rendering for kitchen renders is the process of creating realistic and visually stunning representations of kitchen designs using computer-generated imagery. It allows for accurate visualization of kitchen layouts, materials, finishes, and lighting.