We Create Beautiful Living Area Renders
3D Walkabout is an Australian 3D creative studio that designs amazing 3D Living Area Renders for your home, office or commercial space.
Leave your clients wanting more with an impressive 3D living room render from 3D Walkabout. We're an Australian 3D rendering studio and VR/CR creative industry focused on the highest standards of three-dimensional design imagery. With 3D renders of living spaces and lounge areas, interior design choices and changes become easier as clients will be able to visualise the final result before their project even gets underway. Combining 3D architectural rendering, 3D product rendering, and 3D animations, our 3D rendering service allows for designs to be explored virtually, for changes to be made easily, and for alterations and errors to be resolved successfully. For quality 3D rendering Australia, 3D Walkabout is on hand to deliver outstanding results.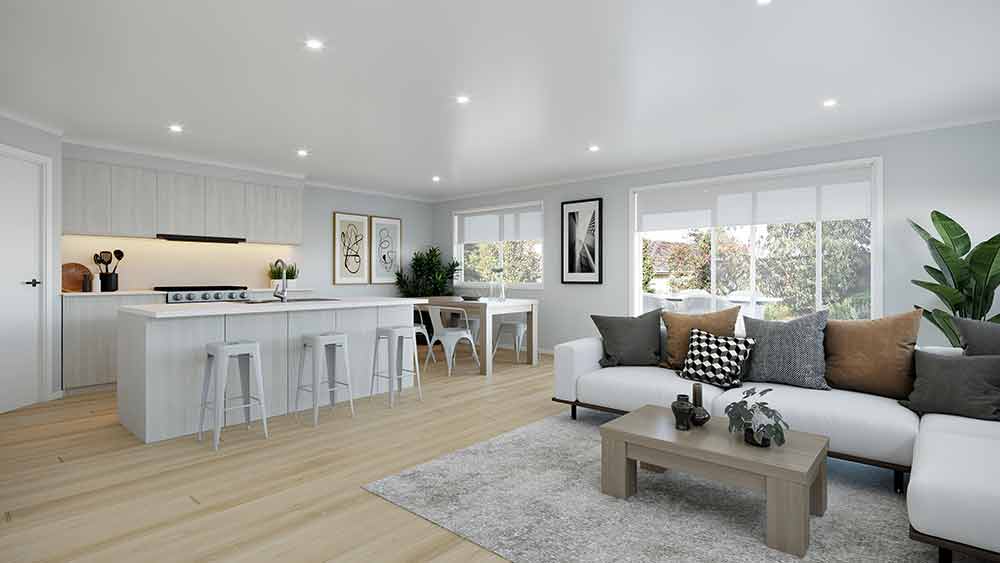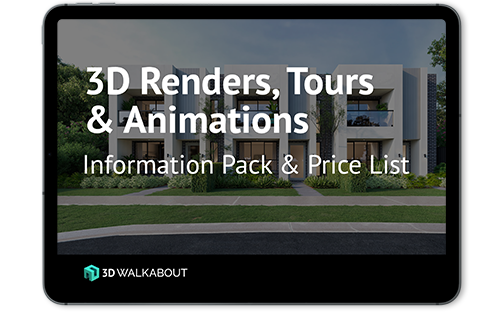 If you'd like to receive our full '3D Renders, Tours & Animations Information Pack & Price List' add your details below.
What are the benefits of 3D Living Area Renders to plan your future lounge
Precise representations of what customers receive with the completed project
Offer photorealistic CGI home imagery, encouraging emotional connection with designs
Easily modified to accommodate changing requirements, and to present several options
Save time, marketing designs as part of 3D house rendering packages
Assist decision-making and reduces approval processes, thus improving conversions
Easily shared with clients online, unlike hard copies of designs
Identify design errors early on, ensuring the best project outcomes
Reduce the feedback loop, presenting easily understood and modified images
Changes can be made without costly resources and time demands
Visually compelling marketing tools, easily used before construction has begun
Allow projects to be reviewed at their earliest design stages
How 3D renders can help interior designs create the perfect lounge layout?
3D living area rendering offers interior designers great savings in time and resources. As designs can be reviewed and modified early on in the process, clients can end up with the perfect living space before construction begins. This means the risk of costly changes once construction has begun is reduced. What's more, unlike traditional sketches and floor plans, 3D property renders do not incur significant costs when changes need to be made, meaning a designer won't attract the expense of used resources.
A 3D lounge render helps bring a client's vision to life. They bridge the divide between 2D plans and the customer's imagination. 3D home renders make it much easier for designers and clients to envision a project's development across its various stages. They can also be used by designers to present a range of options on which customers can collaborate and provide their opinion, thus ensuring homeowners and renovators achieve their ultimate design dream.
Frequently Asked Questions
How do 3D renders of living areas enhance businesses' ability to communicate their vision?
It enable businesses to effectively communicate their vision for living areas to clients, investors, or stakeholders. These renders provide a realistic representation of the proposed design, ensuring everyone involved has a clear understanding of the aesthetics and functionality of the space.
Can businesses in the home staging industry benefit from 3D renders of living areas?
Yes! Home staging businesses can utilize 3D renders to showcase the potential of vacant or outdated properties. These renders allow businesses to virtually stage the living areas with furniture, decor, and personalized touches, helping potential buyers visualize the property's true value.
How do 3D renders of living areas assist businesses in interior design?
For interior design businesses, 3D renders of living areas serve as invaluable tools to present design concepts to clients. These renders provide a clear visualization of the proposed design, including furniture arrangements, color schemes, and overall ambiance, helping clients make decisions with confidence.
In what ways can businesses in the real estate industry use 3D renders of living areas?
Real estate businesses can leverage 3D renders to showcase properties that are still under construction or renovation. These renders provide a realistic preview of the living areas, allowing potential buyers or tenants to visualize the layout, design, and potential of the space.
How do businesses leverage 3D renders of living areas for marketing purposes?
By utilizing 3D renders of living areas, businesses can create immersive and captivating marketing materials, such as brochures, websites, and social media posts. These renders enable potential customers to envision themselves in the space and make informed decisions about purchasing or renting properties.
How can 3D renders of living areas benefit businesses?
Living areas provide businesses with compelling visual representations that help showcase properties, interior designs, or home staging concepts. These renders allow businesses to present realistic depictions of living spaces to potential customers, enhancing their marketing efforts.