We Create Beautiful 3D Office Renders
3D Walkabout is an Australian 3D creative studio that designs amazing 3D Office Renders to create the perfect office space.
At 3D Walkabout, we are committed to helping you create the workspace of your dreams. We know that every business is unique and that every employee needs a place to thrive. That's why we take pride in offering customised solutions that meet your needs and budget. Our 3D renderings in Australia are created by experts who have a deep understanding of how design can impact work performance and productivity. This is why our renderings are so accurate: we use technology that scans real-world spaces, so it's easy for us to see what works and what doesn't before you make any changes.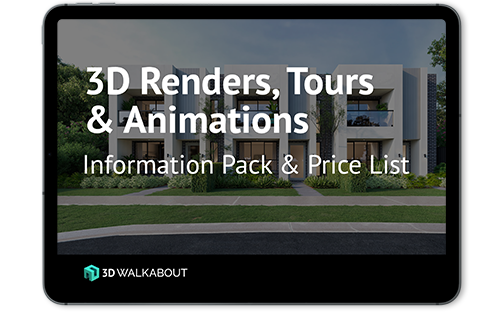 If you'd like to receive our full '3D Renders, Tours & Animations Information Pack & Price List' add your details below.
What are the benefits of 3D Office Renders for your business?
The 3D property renders help stakeholders agree on plans
The ability to show them exactly what the new office will look like
A great way to get them involved early on in the process
A 3D model gives a better idea of how the space will be used
Easier to see how people will move through the space
Improves safety and accessibility
Getting our stakeholders involved in the visualisation process
Helps to visualise the impact of changes to the design and layout of the space
Make sure all stakeholders are aligned on how their product will be displayed
The ability for stakeholders to review them at their own pace
How 3D renders are currently being used to showcase new office fit-outs
3D office design can be used to showcase new office fit-outs in several different ways. First, 3D Renderings give potential clients an accurate picture of how their own office will look when it is finished. This allows them to make informed decisions about their choice of furniture and layout, as well as feel confident in the quality of the final product.
3D animations allow companies to create virtual tours of their offices so customers can enjoy a 360-degree view from any angle. These tours are especially useful for marketing purposes, as they allow potential clients and investors to see what their new office will look like before they even sign on the dotted line or make that first deposit.
3D Rendering services also provide a great opportunity for companies looking to expand their business into new markets. For example, are you looking at expanding your business into Europe but aren't sure where yet? Use a 3D Rendering software to create a virtual walkthrough tour of your current headquarters and then overlay that with images from some European cities that you're interested in working with, saving time and money.
Frequently Asked Questions
Can 3D rendering help businesses save costs and time in the design process?
Yes, 3D rendering allows businesses to make informed design decisions early on, minimising the need for costly and time-consuming modifications during the construction phase. This can result in significant time and cost savings for both businesses and designers.
Is it possible to incorporate branding elements into 3D rendered office designs?
Yes, 3D rendering can include branding elements such as logos, color schemes, and signage, allowing businesses to showcase their brand identity within the office space. This helps potential clients visualise how their own brand can be integrated into the environment.
Can 3D rendering showcase specific features and amenities of an office space?
Absolutely. With 3D rendering, businesses can highlight specific features, such as meeting rooms, collaborative spaces, reception areas, and amenities like coffee bars or recreational zones. This allows potential clients to fully appreciate the offerings of the office space.
How does 3D rendering help businesses market office spaces to potential clients?
3D rendering creates visually compelling and detailed representations of office spaces, showcasing their potential, aesthetics, and functionality. This helps businesses market their spaces effectively to attract potential clients and generate interest.
Can 3D rendering showcase different design options for office spaces?
Yes, 3D rendering can effectively present various design options, allowing businesses to explore different layouts, color schemes, furniture arrangements, and finishes to find the most suitable design for their needs.
How can 3D rendering benefit office designs and interior architecture?
3D rendering allows businesses to visualise and present office designs and interior architecture in a realistic and immersive manner, helping potential clients envision the space before it is constructed.
What is an office design render?
An office design render is a digital image that shows what a proposed office space will look like once it has been designed and built. It is created by using 3D modelling software to create a digital model of the building, which can be viewed from different angles and the inside or outside.