We Create 3D Swimming Pool & Spa Renders
3D Walkabout is an Australian 3D creative studio that designs amazing 3D Swimming Pool Renders for commercial and residential.
Wow your clients with outstanding CGI swimming pool renders when you choose 3D Walkabout. We're an Australian 3D rendering studio and VR/CR creative industry passionate about pushing the boundaries of technology and 3D design. A 3D swimming pool render can help market your business, present a proposed final build to your clients, and reduce the costs of resolving mistakes and the risk of customer disappointment. With 3D architectural rendering, 3D product rendering and 3D animations, 3D Walkabout's professional rendering service provides opportunities for you and your clients to explore a design, easily make changes or adjustments and minimise the impact of errors. For quality 3D rendering Australia based, 3D Walkabout is on hand to deliver outstanding results.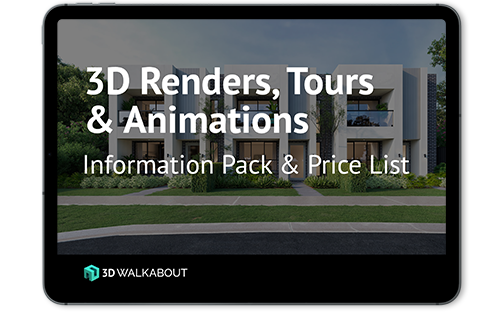 If you'd like to receive our full '3D Renders, Tours & Animations Information Pack & Price List' add your details below.
What are the benefits using 3D swimming pool/spa renders before construction
Help your clients visualise the final product before building starts
Easily identify and correct any errors in the CGI spa/pool design
Add in last-minute amendments which would otherwise stop work completely
Reduce any cost of fixing mistakes and making large adjustments
Encourages client satisfaction at the end of the construction project
Can be adjusted in real-time, according to client preferences
Helps find the perfect balance with the surrounding outdoor environment
Helps the client feel emotionally connected from start to finish
Reduces the risk of misunderstanding between client, designer and builder
Gives the client real expectations of the completed building project
How builders are using 3D renders to market pool and spa designs
3D swimming pool rendering is an effective marketing tool which helps builders promote their design scope, capacity and expertise. A CGI pool or CGI spa render creates a detailed image of the final build, visualising the design from different angles and in different levels of light. This ensures both builders and buyers have a clear understanding of the final build, minimising the risk of dissatisfaction or disappointment.
3D swimming pool render projects serve as a great marketing tool for building professionals. Pool and spa renders can be added to a design portfolio, improving how builders present themselves and seriously impressing their customers. Professional 3D architectural rendering shows clients what a builder can do, thus improving sales conversion rates and giving customers a taste of what the final design will look like before a build even begins. 3D renders are an incredible asset for designers and builders alike, offering great opportunities for marketing, positive builder/client relationships, and successful pool and spa builds and renovations that impress.
Frequently Asked Questions
Can swimming pool and spa renders demonstrate a business's expertise and capabilities?
Yes, swimming pool and spa renders provide visual proof of a business's expertise and capabilities, showcasing their ability to create impressive and functional designs.
How can swimming pool and spa renders enhance the sales process for businesses?
It provide businesses with powerful visual tools that enable effective communication with customers. They help convey the unique features, layout, and overall aesthetic appeal of the swimming pool or spa, increasing the chances of closing a sale.
What specifications should businesses consider when opting for 3D rendering services for swimming pools?
When selecting 3D rendering services for swimming pools, businesses should consider factors such as the resolution and image quality of the renders, the ability to accurately depict materials and textures, the inclusion of lighting and landscaping elements, and the option for customization to match specific design requirements.
How do realistic swimming pool and spa renders contribute to customer engagement and decision-making?
Realistic renders allow customers to envision themselves in the swimming pool or spa space, leading to increased engagement and helping them make informed decisions about their purchase.
In what ways can businesses in the swimming pool and spa industry utilise renders for showcasing their designs?
It can utilise renders to showcase their swimming pool and spa designs through various channels such as websites, social media, and marketing materials. These renders help potential customers visualize the final product and generate interest.
How can high-quality swimming pool and spa renders benefit businesses in the industry?
High-quality renders of swimming pools and spas provide businesses with compelling visual representations that can enhance marketing efforts, attract customers, and drive sales.