3D Virtual Tours for Holiday Homes
We offer Matterport virtual tours for holiday homes, holiday lets & B&Bs nationwide across Australia. Book your holiday rental 3D virtual tour today and market your property to a new audience.
3D Matterport Holiday Rental Scanning
3D virtual tours can be an effective marketing tool for holiday rental accommodations and Airbnb listings. These tours provide potential guests with a virtual walkthrough of the property, allowing them to explore each room and get a sense of the space and layout. It gives them a realistic and immersive experience, showcasing the property's features, amenities, and unique selling points. By offering a 3D virtual tour, hosts can build trust and confidence with potential guests, as they can visually inspect the property before making a booking decision. It saves time for both hosts and guests by providing a comprehensive view of the accommodation, enhancing the booking experience, and increasing the likelihood of securing reservations.
The Farmhouse
Holiday Rentals, Gerringong NSW
Seacliff House is located on the South Coast of New South Wales in Gerringong, just two hours easy drive south of Sydney CBD. Surrounded by environmentally protected rolling green dairy country hills and views to the Pacific Ocean, this is a unique property and a special place to stay and / or host your special day.
The Lakeland
Holiday Rentals, Broadbeach Waters QLD
Nestled in the desirable neighborhood of Broadbeach Waters, 16 Lakeland Key is a stunning property surrounded by waterways, featuring luxurious living spaces, exquisite views, and a prime location near coastal amenities.
Villa Mallorca
Holiday Homes ,Mallorca, Spain
Shared by: Rodemannwood, SL B57640484
More 3D Virtual Tour options…
We're in your backyard!
We operate nationwide across Australia with the biggest network of operators in the country.
Just give us a call on 1300 00 3392 or contact us here for an instant quote and to get booked in.
Benefits of using 3D virtual tours to to advertise holiday rentals
Provide potential guests with an immersive and interactive experience, allowing them to virtually explore the property from the comfort of their own homes.
Showcase the layout and features of the holiday rental, giving guests a realistic sense of the space and helping them visualise their stay.
Highlight the unique selling points of the property, such as stunning views, architectural details, or special amenities, making it stand out among other listings.
Guests can accurately assess the suitability of the accommodation, including the number of rooms, layout, and furnishings, helping them make an informed decision.
Virtual tours create a sense of transparency and trust, as guests can see the property in detail before booking, reducing surprises or disappointments upon arrival.
Hosts can showcase the property's amenities, such as a pool, gym, or entertainment area, through virtual tours, enhancing its appeal to potential guests.
Virtual tours can be shared across multiple platforms, including listing websites and social media, increasing the visibility of the rental property.
Guests can virtually "walk" through the property at their own pace, exploring each room and getting a comprehensive understanding of the rental's layout.
Virtual tours can be accessed anytime, allowing guests to revisit the property or share it with travel companions, family, or friends, increasing the likelihood of word-of-mouth recommendations.
Hosts can provide a memorable and engaging experience for potential guests, increasing their interest, engagement, and ultimately boosting bookings.
A Powerful Suite of Features
Transform how you market and manage your properties with Matterport's twin digital platform.
How Matterport 3D tours can help advertise your holiday rental
Matterport 3D tours provide potential guests with an exceptional and interactive experience, allowing them to explore holiday rental properties as if they were physically present. Holiday rental hosts in Australia can showcase their properties in a visually stunning and realistic manner. Guests can virtually walk through each room, assess the layout, and get a sense of the property's ambiance. The detailed and accurate representation of the rental through 3D tours builds trust and transparency, as guests can make informed decisions based on what they see, reducing the chances of disappointment upon arrival.
Virtual tours also highlight the unique features and selling points of holiday rentals. From breathtaking views to luxurious amenities, Matterport 3D tours capture the essence of the property, making it stand out from other listings and attracting more potential guests.
One of the major benefits of Matterport 3D tours is their accessibility and shareability. Hosts can easily embed the tours in their property listings, websites, and social media platforms. This enables a wider audience to virtually explore the rental property and increases its visibility among potential guests.
Matterport 3D tours provide convenience for guests. They can revisit the virtual tour at any time, examine specific details, and share it with travel companions or family members for their input, facilitating decision-making and increasing the likelihood of bookings. They offer an engaging and immersive experience, build trust, showcase unique features, and provide convenience for guests, ultimately driving more bookings and making the rental properties more appealing in the competitive holiday rental market.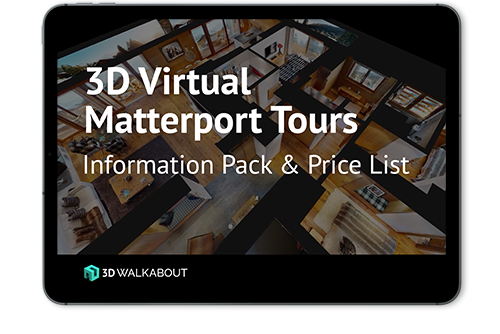 If you'd like to receive our full '3D Virtual Matterport Tours Information Pack & Price List' add your details below.
No Results Found
The page you requested could not be found. Try refining your search, or use the navigation above to locate the post.
Frequently Asked Questions
How long does it take to 3D scan a house?
It takes around 90 minutes to a couple of hours before your digital Matterport 3D scan will be ready for use. The amount of time spent on a 3D home scan will depend on the size and complexity of your property, so contact us for a more precise estimate.
What is a 3D scan of a house?
A 3D scan digitalises a house setting which allows someone to manipulate the objects, colours and other properties of the rooms and then store them in digital format. This allows creatives and sellers to showcase their houses online to a remote audience or even use it for animated videos or games.
What is Matterport for real estate?
Matterport allows real estate companies to produce a 3D property scan of their buildings so they can be viewed by prospective buyers from the comfort of their screens. This can retain the atmosphere of the estate, capturing its luxurious design which you have worked hard to produce.
How much does a Matterport 3D tour cost?
Our Matterport 3D virtual tours start at $350. That's for a small space and the prices go up from there based on the total area, the complexity of the space and the exact location. To get an instant quote get in touch with our team today.
What is better than Matterport?
Matterport prides itself on being the best 3D software on the market. It works alongside hundreds of professionals who have made its software simple to use and accessible to any skill level, so making a virtual tour cannot be much easier. Its graphics are highly rendered and look almost real.
Is Matterport good for rental properties?
Rental properties can benefit from Matterport's VR tours just as much as any other type of property. Future tenants might be unable to visit the house, such as if they are a student on a placement year abroad, so you can provide them will a fully guided 360 virtual tour online.
Is Matterport worth it for real estate?
Matterport is fantastic when it comes to creating virtual tours for real estate. Not only can it create a virtual twin of the space you plan on having the property built, but it can also place a 3D model of the creation onto the land which is almost tangible.