Adelaide Matterport 3D Virtual Tours
Get in touch to book Adelaide 3D virtual tours. Our Adelaide 3D property scanning service offers the best prices with instant bookings and super quick turn-around times. 
3D Matterport Tours Adelaide
Matterport 3D property scanning is an innovative technology that can benefit various businesses in Adelaide. Real estate agents can leverage Matterport to create immersive virtual tours of their properties, providing prospective clients with an engaging and realistic experience. The hospitality industry can also benefit from Matterport 3D scanning by creating virtual tours of hotels, restaurants, and event venues. Educational institutions can use Matterport to provide virtual tours of their facilities to prospective students and their families. Construction companies can also use Matterport 3D scanning to provide virtual walkthroughs of construction sites, which can be helpful for client presentations and project management. Incorporating Matterport 3D scanning into marketing strategies can help businesses stay ahead of the competition and offer innovative solutions to their clients.
Real Estate
Homes for sale, rentals, display homes & more
Matterport tours revolutionise real estate by offering immersive 3D experiences. These virtual tours allow potential buyers to explore properties remotely, saving time and resources. With Matterport, buyers can visualise spaces in detail, accurately assess layout and dimensions, and make informed decisions. It enhances accessibility, convenience, and boosts engagement in the real estate market.
Offices
Perfect for marketing commercial spaces
Matterport tours offer significant advantages for office spaces. They provide a virtual walkthrough experience, enabling potential tenants to explore and evaluate the layout, design, and functionality of the space remotely. This saves time, eliminates the need for physical visits, and facilitates informed decision-making. It enhances convenience, increases exposure, and attracts high-quality tenants.
Hospitality Venues
Restaurants, bars, cafes and event venues
Matterport tours offer numerous benefits for hospitality event spaces. They allow event planners and potential clients to virtually tour and visualize the venue, enabling them to assess its suitability for their specific needs. This saves time, facilitates efficient planning, and increases bookings by providing an immersive and engaging preview of the space.
Industrial Spaces
Factories, warehouses, production lines & more
Matterport tours offer significant advantages for industrial spaces and factories. These virtual tours enable remote inspections, making it easier for potential buyers or tenants to assess the infrastructure, machinery, and overall suitability of the facility. It saves time, increases transparency, and facilitates informed decision-making in the industrial real estate sector.
Retail Stores
Shops, shopping malls, outlet stores
Matterport tours provide valuable benefits for retail stores. They offer a virtual shopping experience, allowing customers to explore the store's layout, product displays, and merchandise remotely. This enhances convenience, attracts online shoppers, and drives foot traffic. It enables retailers to showcase their unique offerings and create an immersive digital storefront.
Gym
Gym,s, rec centres, sports grounds, sports clubs
Matterport tours bring several advantages to gyms and fitness centres. They allow potential members to virtually explore the facility, including workout areas, equipment, and amenities. This saves time, builds trust, and helps individuals assess if the gym meets their fitness goals. It enhances accessibility, boosts membership conversions, and creates a competitive edge in the fitness industry.
Child Care Centres
Child care centres, early learning centres
3D virtual tours offer valuable benefits for child care centres. These virtual tours enable parents to remotely explore the facility, including classrooms, play areas, and safety features. It builds trust, saves time, and helps parents assess the environment for their child's care. It enhances transparency, increases enrollment rates, and showcases the centre's amenities and child-friendly spaces.
We offer 3D virtual tours in suburbs throughout Adelaide.
To book a Matterport tour in Adelaide call us on 1800 00 3392 or contact us here.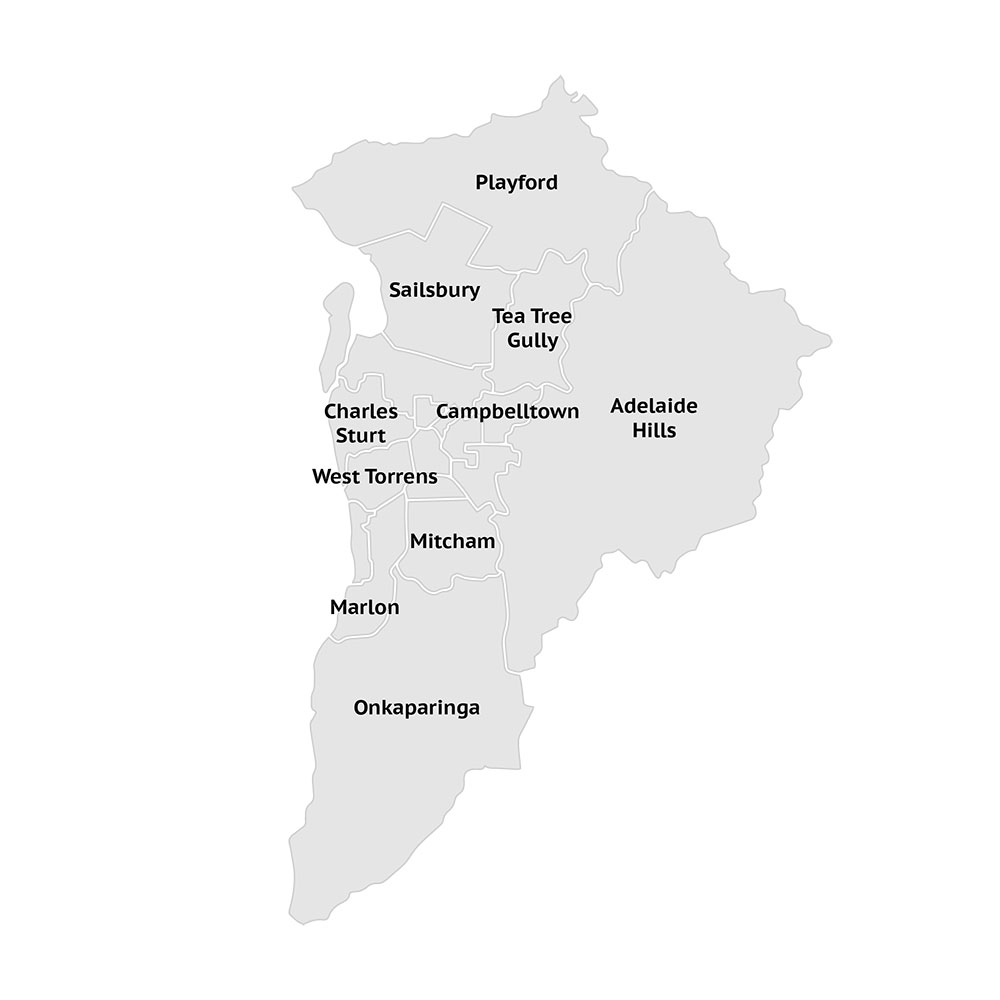 Just some of the many suburbs we service in Adelaide…
More 3D Virtual Tour options…
The benefits of using Adelaide 3D virtual tours to market your company's space
VR tours can be conducted using a headset
74% of agents using virtual property tours win more listings
They open doorways to remote collaboration with professionals
3D virtual tours can be given to letting agencies all over the country
They attract remote, hence more, potential buyers
Tours are conducted as 360 walkthroughs, which means no area is unseen
Using virtual tours means you can sell properties for higher prices
Building virtual tours are guided, so your customers get the best experience
The tours are fully customisable
Sales can be conducted quicker than usual
A Powerful Suite of Features
Transform how you market and manage your properties with Matterport's twin digital platform.
How are 3D virtual tours being used by businesses in Adelaide?
Matterport 3D property scanning is a revolutionary technology that can help various businesses in Adelaide to present their properties in a new, engaging and realistic way. The possibilities of Matterport are endless, and it can benefit several industries including real estate, hospitality, education, construction and more.
Real estate agents can use Matterport to create immersive virtual tours of their properties, enabling prospective clients to get a feel for the property before physically visiting. This can help streamline the sales process and attract more qualified buyers. The hospitality industry can benefit from Matterport by providing virtual tours of hotels, restaurants, and event venues, allowing clients to experience the venue before making a booking.
Matterport can also be used by educational institutions to create virtual tours of their campuses and facilities. This can be particularly useful for international students who cannot physically visit the campus before applying. In the construction industry, Matterport can help architects and builders to showcase their projects to potential clients and investors, providing an interactive and informative experience.
In terms of local landmarks, Matterport can be used to create virtual tours of iconic Adelaide sites such as the Adelaide Oval, the Botanic Gardens, and the Central Market. This can be a unique and engaging way to promote local tourism and attract visitors.
Incorporating Matterport 3D scanning into marketing strategies can provide a competitive advantage for businesses in Adelaide, helping them to stand out and offer innovative solutions to their clients.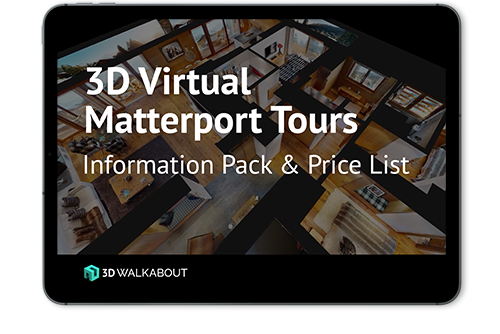 If you'd like to receive our full '3D Virtual Matterport Tours Information Pack & Price List' add your details below.
No Results Found
The page you requested could not be found. Try refining your search, or use the navigation above to locate the post.
Frequently Asked Questions
How long does it take to 3D scan a house?
It takes around 90 minutes to a couple of hours before your digital Matterport 3D scan will be ready for use. The amount of time spent on a 3D home scan will depend on the size and complexity of your property, so contact us for a more precise estimate.
What is a 3D scan of a house?
A 3D scan digitalises a house setting which allows someone to manipulate the objects, colours and other properties of the rooms and then store them in digital format. This allows creatives and sellers to showcase their houses online to a remote audience or even use it for animated videos or games.
What is Matterport for real estate?
Matterport allows real estate companies to produce a 3D property scan of their buildings so they can be viewed by prospective buyers from the comfort of their screens. This can retain the atmosphere of the estate, capturing its luxurious design which you have worked hard to produce.
How much does a Matterport 3D tour cost?
Our Matterport 3D virtual tours start at $350. That's for a small space and the prices go up from there based on the total area, the complexity of the space and the exact location. To get an instant quote get in touch with our team today.
What is better than Matterport?
Matterport prides itself on being the best 3D software on the market. It works alongside hundreds of professionals who have made its software simple to use and accessible to any skill level, so making a virtual tour cannot be much easier. Its graphics are highly rendered and look almost real.
Is Matterport good for rental properties?
Rental properties can benefit from Matterport's VR tours just as much as any other type of property. Future tenants might be unable to visit the house, such as if they are a student on a placement year abroad, so you can provide them will a fully guided 360 virtual tour online.
Is Matterport worth it for real estate?
Matterport is fantastic when it comes to creating virtual tours for real estate. Not only can it create a virtual twin of the space you plan on having the property built, but it can also place a 3D model of the creation onto the land which is almost tangible.