Sydney Matterport 3D Virtual Tours
Looking for Matterport Sydney 3D virtual tours? Our team has experience creating hundreds of Sydney 3D virtual tours for clients across a wide range of industries. Book your Sydney 360 walkthrough today.
3D Matterport Tours Sydney
3D Virtual Matterport Tours offer numerous benefits for businesses in Sydney across various industries. These immersive virtual tours provide a lifelike experience, allowing potential customers to explore properties, venues, and spaces remotely. In the real estate industry, agents and property developers can showcase homes, apartments, and commercial properties, enabling prospective buyers to virtually walk through and experience the property as if they were physically present. Restaurants, hotels, and event venues can utilise Matterport Tours to showcase their facilities, helping customers visualise the ambiance and layout. Educational institutions, museums, and tourist attractions can create virtual tours to engage visitors and provide interactive experiences. By offering a realistic and interactive way to explore spaces, 3D Virtual Matterport Tours enhance customer engagement, increase visibility, and drive conversions for businesses in Sydney.
Real Estate
Homes for sale, rentals, display homes & more
Matterport tours provide significant benefits for real estate in Sydney. They enable potential buyers to remotely explore properties, regardless of their location. This saves time and resources, increases engagement, and attracts a broader audience. It offers a detailed and immersive experience, showcasing the unique features and architecture of Sydney's diverse real estate market.
Offices
Perfect for marketing commercial spaces
Matterport tours offer great advantages for office spaces in Sydney. They provide a convenient and immersive way for potential tenants to remotely explore and evaluate the layout, design, and amenities of office spaces in this bustling city. It saves time, attracts quality tenants, and increases the visibility of available office properties in the competitive Sydney market.
Hospitality Venues
Restaurants, bars, cafes and event venues
Matterport tours bring numerous benefits to hospitality venues in Sydney. These virtual tours allow potential clients to explore the venue remotely, showcasing its unique features, ambiance, and layout. It saves time, enhances convenience, and increases bookings by providing an engaging and interactive preview of the hospitality space in the vibrant city of Sydney.
Industrial Spaces
Factories, warehouses, production lines & more
3D virtual tours provide valuable advantages for industrial spaces and factories in Sydney. They allow potential buyers or tenants to remotely inspect the facilities, machinery, and infrastructure. This saves time, increases accessibility, and facilitates informed decision-making. It showcases the capabilities and layout of industrial spaces, attracting businesses and investors in Sydney's thriving industrial sector.
Retail Stores
Shops, shopping malls, outlet stores
Matterport tours offer significant benefits to the retail sector in Sydney. These virtual tours allow customers to explore retail stores remotely, providing an immersive shopping experience. It increases convenience, attracts online shoppers, and drives foot traffic to physical stores. It showcases the unique offerings of Sydney's retail sector, enhancing customer engagement and boosting sales.
Gyms
Gyms, sporting venues, recreational facilities
Matterport tours provide valuable advantages for gyms in Sydney. These virtual tours allow potential members to remotely explore the facility, including workout areas, equipment, and amenities. It saves time, builds trust, and helps individuals assess if the gym meets their fitness goals. It enhances accessibility, increases membership conversions, and showcases the unique features of Sydney's fitness centres.
Child Care Venues
Child Care centres, early learning centres and more
Matterport tours offer significant benefits for child care centres in Sydney. These virtual tours enable parents to remotely explore the facility, including classrooms, play areas, and safety features. It saves time, builds trust, and helps parents assess the environment for their child's care. It enhances transparency, increases enrollment rates, and showcases the amenities and child-friendly spaces of Sydney's child care centres.
We offer 3D virtual tours in suburbs throughout Sydney.
To book a Matterport tour in Sydney call us on 1800 00 3392 or contact us here.
Just some of the many suburbs we service in Sydney…
More 3D Virtual Tour options…
The benefits of using Sydney 3D virtual tours to market your company's space
Provide an immersive and interactive way for businesses in Sydney to showcase their spaces and offerings.
Allows potential customers to virtually explore and experience the business without physically visiting the location.
Save time and resources by reducing the need for physical visits or multiple showings.
Enhance convenience for customers who may be located far away or have limited availability for in-person visits.
Increase accessibility by enabling individuals with mobility issues or other limitations to explore the business remotely.
Attract a wider audience, including online shoppers and remote customers who may not have discovered the business otherwise.
Build trust and transparency by providing a realistic and comprehensive view of the business, leaving little room for surprises.
Increase customer engagement and interest through interactive features, such as hotspots, that provide additional information about products or services.
Differentiate businesses in a competitive market by offering a cutting-edge and innovative experience for potential customers.
Have a lasting impact as customers can revisit and share the virtual tour, extending the reach and visibility of the business.
A Powerful Suite of Features
Transform how you market and manage your properties with Matterport's twin digital platform.
How are 3D virtual tours being used by businesses in Sydney?
Matterport 3D virtual tours are gaining popularity among businesses in Sydney and beyond. From real estate to hospitality, museums, and construction, businesses of all types are turning to this innovative technology to showcase their products and services.
One of the biggest benefits of Matterport 3D virtual tours is the ability to provide an immersive and interactive experience to potential customers. Real estate agents can use Matterport to create virtual home tours that allow buyers to explore every room of a property, as if they were physically there. Similarly, hospitality businesses can use 3D virtual tours to showcase their accommodations, restaurants, and amenities to potential guests, giving them a sense of what it would be like to stay at the property before they book.
Museums and art galleries are also using Matterport 3D virtual tours to provide virtual walkthroughs of exhibits and installations. This allows people from around the world to experience the exhibits from the comfort of their own homes, increasing accessibility and expanding the reach of the museum or gallery.
In the construction industry, Matterport 3D virtual tours are used to document and showcase completed projects. This can be useful for architecture and design firms who want to show potential clients their previous work and capabilities.
Overall, Matterport 3D virtual tours can benefit businesses in many ways, including increased engagement and interaction with potential customers, increased accessibility to a wider audience, and the ability to showcase products and services in a unique and innovative way. If you're interested in using Matterport 3D virtual tours for your business in Sydney, our team of experts can help you get started and create a virtual tour that showcases your products or services in the best possible way.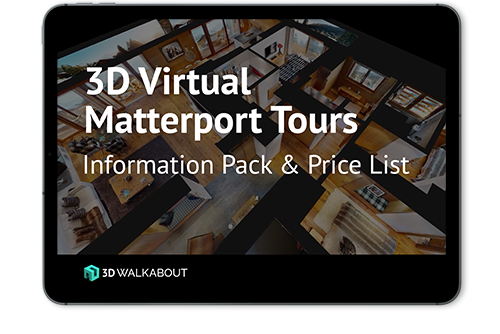 If you'd like to receive our full '3D Virtual Matterport Tours Information Pack & Price List' add your details below.
No Results Found
The page you requested could not be found. Try refining your search, or use the navigation above to locate the post.
Frequently Asked Questions
How long does it take to 3D scan a house?
It takes around 90 minutes to a couple of hours before your digital Matterport 3D scan will be ready for use. The amount of time spent on a 3D home scan will depend on the size and complexity of your property, so contact us for a more precise estimate.
What is a 3D scan of a house?
A 3D scan digitalises a house setting which allows someone to manipulate the objects, colours and other properties of the rooms and then store them in digital format. This allows creatives and sellers to showcase their houses online to a remote audience or even use it for animated videos or games.
What is Matterport for real estate?
Matterport allows real estate companies to produce a 3D property scan of their buildings so they can be viewed by prospective buyers from the comfort of their screens. This can retain the atmosphere of the estate, capturing its luxurious design which you have worked hard to produce.
How much does a Matterport 3D tour cost?
Our Matterport 3D virtual tours start at $350. That's for a small space and the prices go up from there based on the total area, the complexity of the space and the exact location. To get an instant quote get in touch with our team today.
What is better than Matterport?
Matterport prides itself on being the best 3D software on the market. It works alongside hundreds of professionals who have made its software simple to use and accessible to any skill level, so making a virtual tour cannot be much easier. Its graphics are highly rendered and look almost real.
Is Matterport good for rental properties?
Rental properties can benefit from Matterport's VR tours just as much as any other type of property. Future tenants might be unable to visit the house, such as if they are a student on a placement year abroad, so you can provide them will a fully guided 360 virtual tour online.
Is Matterport worth it for real estate?
Matterport is fantastic when it comes to creating virtual tours for real estate. Not only can it create a virtual twin of the space you plan on having the property built, but it can also place a 3D model of the creation onto the land which is almost tangible.