3D VIRTUAL MATTERPORT TOURS
We offer Matterport 3D virtual tours using the latest in Matterport camera technology. We operate nationwide across Australia including; Sydney, Melbourne, Perth, Brisbane, Adelaide, Canberra & Darwin.


3D Matterport Virtual Tours
At 3D Walkabout we have been scanning properties since 2017. Over that time we have built up a nationwide team of Matterport 3D technicians across every major metro and regional area in Australia. We pride ourselves on creating 'gold standard' 3D virtual property tours at super competitive prices. Whatever industry you are in and whatever you are looking to utilise Matterport's incredible 3D technology for then get in touch. We can offer you an instant quote over the phone and then get you booked in and the tour back within days. Call our 3D scanning team on 1300 00 3392 today or drop us an email.
Real Estate
Homes for sale, rentals, display homes & more
Matterport tours revolutionise real estate by offering immersive 3D experiences. These virtual tours allow potential buyers to explore properties remotely, saving time and resources. With Matterport, buyers can visualise spaces in detail, accurately assess layout and dimensions, and make informed decisions. It enhances accessibility, convenience, and boosts engagement in the real estate market.
Offices
Perfect for marketing commercial spaces
Matterport tours offer significant advantages for office spaces. They provide a virtual walkthrough experience, enabling potential tenants to explore and evaluate the layout, design, and functionality of the space remotely. This saves time, eliminates the need for physical visits, and facilitates informed decision-making. It enhances convenience, increases exposure, and attracts high-quality tenants.
Hospitality Venues
Restaurants, bars, cafes and event venues
Matterport tours offer numerous benefits for hospitality event spaces. They allow event planners and potential clients to virtually tour and visualize the venue, enabling them to assess its suitability for their specific needs. This saves time, facilitates efficient planning, and increases bookings by providing an immersive and engaging preview of the space.
Industrial Spaces
Factories, warehouses, production lines & more
Matterport tours offer significant advantages for industrial spaces and factories. These virtual tours enable remote inspections, making it easier for potential buyers or tenants to assess the infrastructure, machinery, and overall suitability of the facility. It saves time, increases transparency, and facilitates informed decision-making in the industrial real estate sector.
Retail Stores
Shops, shopping malls, outlet stores
Matterport tours provide valuable benefits for retail stores. They offer a virtual shopping experience, allowing customers to explore the store's layout, product displays, and merchandise remotely. This enhances convenience, attracts online shoppers, and drives foot traffic. It enables retailers to showcase their unique offerings and create an immersive digital storefront.
Gyms & Sporting Venues
Gyms, sporting venues, rec centres and more
Matterport tours bring several advantages to gyms and fitness centres. They allow potential members to virtually explore the facility, including workout areas, equipment, and amenities. This saves time, builds trust, and helps individuals assess if the gym meets their fitness goals. It enhances accessibility, boosts membership conversions, and creates a competitive edge in the fitness industry.
Child Care Centres
Child Care centres, early learning centres and more…
3D virtual tours offer valuable benefits for child care centres. These virtual tours enable parents to remotely explore the facility, including classrooms, play areas, and safety features. It builds trust, saves time, and helps parents assess the environment for their child's care. It enhances transparency, increases enrollment rates, and showcases the centre's amenities and child-friendly spaces.
Which industry sector are you in?
We're in your backyard!
We operate nationwide across Australia with the biggest network of operators in the country.
Just give us a call on 1300 00 3392 or contact us here for an instant quote and to get booked in.
A Powerful Suite of Features
Transform how you market and manage your properties with Matterport's twin digital platform..
What are the benefits of 3D virtual tours for your business?
Matterport 3D virtual tours provide an immersive and interactive experience that captivates viewers, resulting in increased engagement and interest in the business.
Businesses can reach a wider audience by allowing people to explore their space remotely from anywhere in the world, eliminating geographical limitations.
The detailed 3D rendering and realistic visuals of Matterport tours provide viewers with an accurate representation of the space, allowing them to visualise the environment as if they were physically present.
Businesses can save time and resources by minimising the need for physical site visits or showings, streamlining the decision-making process for potential clients.
The immersive nature of Matterport tours leads to higher conversion rates as potential clients have a better understanding of the space, making them more likely to make a purchase or inquiry.
Businesses can stand apart from competitors by showcasing their commitment to innovative technology and providing a cutting-edge experience to potential customers.
Matterport tours are accessible at any time, allowing businesses to showcase their space to interested individuals even outside of regular business hours.
Matterport tours can be enhanced with virtual staging, allowing businesses to showcase different design options, furniture layouts, and customization possibilities to potential clients.
Matterport tours can be easily shared on websites, social media platforms, and email marketing campaigns, allowing businesses to reach a larger audience and generate leads.
Matterport provides analytics and data insights, allowing businesses to track viewer behavior, measure engagement levels, and make informed marketing and sales decisions based on the data collected.
Fully Customised!
We offer a service to add a range of enhanced features to make your Matterport tour standout from the crowd. You can check out this retail store tour that showcases a range of these options. Get in touch with our team for a custom quote. We can also combine tours with aerial drone footage, great for spaces with large exterior areas you'd like to show from above. 
How is 3D scanning currently being used by businesses in Australia?
Matterport 3D virtual tours are currently being widely utilised by businesses in Australia across a range of industries. In the real estate sector, property developers and real estate agents leverage Matterport tours to showcase properties to potential buyers. These virtual tours provide a realistic and immersive experience, allowing viewers to explore the property remotely and gain a comprehensive understanding of the layout, design, and features. This helps drive interest and increases the likelihood of making inquiries or purchasing decisions.
In the hospitality industry, hotels and resorts utiliae Matterport tours to provide virtual walkthroughs of their accommodations, amenities, and facilities. This enables potential guests to explore the property, check room layouts, and get a feel for the ambiance before making a reservation. It enhances the booking process and helps establish trust and confidence in the business.
Matterport tours are used by retail businesses to create interactive shopping experiences. Online stores can provide virtual tours of their physical locations, allowing customers to virtually browse products and navigate through the store. This immersive experience enhances customer engagement and assists in the decision-making process.
Educational institutions also benefit from Matterport tours by offering virtual campus tours. Prospective students and their families can explore campuses, classrooms, libraries, and other facilities remotely. This helps them assess the suitability of the institution and make informed decisions about their educational journey.
Event venues utilise Matterport tours to showcase their spaces for weddings, conferences, and other events. Potential clients can virtually walk through the venue, visualise seating arrangements, and assess the suitability of the space for their specific event.
Matterport 3D virtual tours have become a valuable tool for businesses in Australia, providing an immersive and engaging experience that facilitates better marketing, increased customer engagement, and streamlined decision-making processes.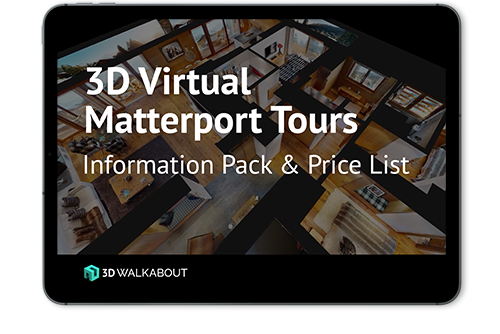 If you'd like to receive our full '3D Virtual Matterport Tours Information Pack & Price List' add your details below.
3D Virtual Tours Case Studies
No Results Found
The page you requested could not be found. Try refining your search, or use the navigation above to locate the post.
Frequently Asked Questions
How long does it take to 3D scan a house?
It takes around 90 minutes to a couple of hours before your digital Matterport 3D scan will be ready for use. The amount of time spent on a 3D home scan will depend on the size and complexity of your property, so contact us for a more precise estimate.
What is a 3D scan of a house?
A 3D scan digitalises a house setting which allows someone to manipulate the objects, colours and other properties of the rooms and then store them in digital format. This allows creatives and sellers to showcase their houses online to a remote audience or even use it for animated videos or games.
What is Matterport for real estate?
Matterport allows real estate companies to produce a 3D property scan of their buildings so they can be viewed by prospective buyers from the comfort of their screens. This can retain the atmosphere of the estate, capturing its luxurious design which you have worked hard to produce.
How much does a Matterport 3D tour cost?
Our Matterport 3D virtual tours start at $350. That's for a small space and the prices go up from there based on the total area, the complexity of the space and the exact location. To get an instant quote get in touch with our team today.
What is better than Matterport?
Matterport prides itself on being the best 3D software on the market. It works alongside hundreds of professionals who have made its software simple to use and accessible to any skill level, so making a virtual tour cannot be much easier. Its graphics are highly rendered and look almost real.
Is Matterport good for rental properties?
Rental properties can benefit from Matterport's VR tours just as much as any other type of property. Future tenants might be unable to visit the house, such as if they are a student on a placement year abroad, so you can provide them will a fully guided 360 virtual tour online.
Is Matterport worth it for real estate?
Matterport is fantastic when it comes to creating virtual tours for real estate. Not only can it create a virtual twin of the space you plan on having the property built, but it can also place a 3D model of the creation onto the land which is almost tangible.