3D Virtual Tours for Architects & Builders
3D property scanning can help architects project manage a build and communicate progress, design features and measurements with the client and the builder. Matterport scanning for architects can also help market a completed project.
3D Matterport Tours for Architects & Builders
3D virtual tours, such as Matterport tours, offer architects and builders a powerful tool for showcasing their designs and completed projects. These tours allow architects to provide clients with immersive walkthroughs of their architectural concepts, helping them visualise the final product before construction begins. Builders can utilise virtual tours to present their finished projects in a highly engaging and interactive manner, enabling potential clients to explore the spaces and appreciate the attention to detail. 3D virtual tours enhance communication and collaboration between architects, builders, and clients, ensuring a shared understanding of the design intent and facilitating informed decision-making. They also serve as valuable marketing assets, helping architects and builders attract new clients and demonstrate their expertise in a visually compelling way.
Buser Project
Architects & Builders, Istanbul Turkey
Shared by: Raynoxco
irashii お部屋
Architects & Builders
Shared by: 内田
More 3D Virtual Tour options…
We're in your backyard!
We operate nationwide across Australia with the biggest network of operators in the country.
Just give us a call on 1300 00 3392 or contact us here for an instant quote and to get booked in.
Benefits of using 3D virtual tours for Architects & Builders
3D tours provide a realistic and immersive experience, allowing architects and builders to showcase their designs and projects in a visually compelling manner.
Engage clients by enabling them to virtually explore and experience the architectural concepts or completed projects before construction begins or final handover.
Offer an accurate representation of the space, capturing the dimensions, layout, and design details precisely.
Architects can use virtual tours to validate their design concepts, ensuring that the client's vision aligns with the final outcome.
Facilitate effective communication and collaboration among architects, builders, and clients, reducing misunderstandings and improving decision-making.
Allow stakeholders to access and review the project remotely, eliminating the need for physical site visits and enabling participation from anywhere.
Virtual tours save time and costs by minimizing the need for frequent site visits and revisions, streamlining the design and construction process.
Utilise virtual tours as marketing tools to showcase their portfolio, attracting new clients and demonstrating their capabilities.
Enable architects and builders to quickly iterate and refine their designs, making adjustments based on client feedback and preferences.
Virtual tours serve as a digital record of the architectural projects, preserving the design intent and providing a reference for future renovations or additions.
A Powerful Suite of Features
Transform how you market and manage your properties with Matterport's twin digital platform.
How are Matterport 3D tours currently being used by Architects & Builders in Australia?
Matterport 3D tours have gained significant traction among architects and builders in Australia as a valuable tool for showcasing their designs and completed projects. These immersive tours are being utilized in various ways to enhance communication, collaboration, and marketing efforts.
Architects leverage Matterport 3D tours to present their design concepts to clients. By providing virtual walkthroughs of proposed spaces, architects can effectively convey their vision and help clients visualise the final outcome. Clients can explore the design from different angles, gaining a comprehensive understanding of the spatial layout, materials, and finishes.
Builders utilise Matterport 3D tours to showcase their completed projects. These virtual tours offer potential buyers an interactive and immersive experience, allowing them to virtually walk through the spaces and examine the quality of construction. Builders can highlight their attention to detail, craftsmanship, and unique features, thereby attracting new clients and demonstrating their expertise.
Matterport 3D tours also serve as effective communication tools between architects, builders, and clients. Stakeholders can remotely access the tours, reducing the need for physical site visits and facilitating real-time collaboration. Clients can provide feedback on the design or construction progress, leading to more informed decision-making and streamlined project management.
In addition to design and construction purposes, Matterport 3D tours are utilized for marketing and promotional activities. Architects and builders integrate these tours into their websites, portfolios, and social media platforms to showcase their capabilities and attract a wider audience. The immersive nature of these tours allows potential clients to engage with the spaces and develop a sense of trust and confidence in the architect or builder's work.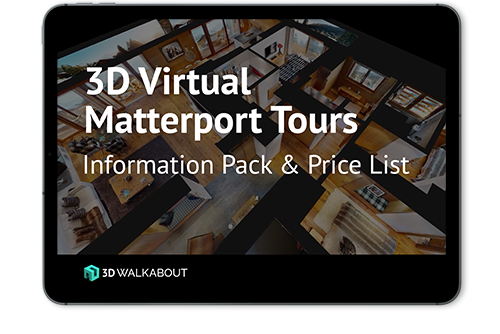 If you'd like to receive our full '3D Virtual Matterport Tours Information Pack & Price List' add your details below.
No Results Found
The page you requested could not be found. Try refining your search, or use the navigation above to locate the post.
Frequently Asked Questions
How long does it take to 3D scan a house?
It takes around 90 minutes to a couple of hours before your digital Matterport 3D scan will be ready for use. The amount of time spent on a 3D home scan will depend on the size and complexity of your property, so contact us for a more precise estimate.
What is a 3D scan of a house?
A 3D scan digitalises a house setting which allows someone to manipulate the objects, colours and other properties of the rooms and then store them in digital format. This allows creatives and sellers to showcase their houses online to a remote audience or even use it for animated videos or games.
What is Matterport for real estate?
Matterport allows real estate companies to produce a 3D property scan of their buildings so they can be viewed by prospective buyers from the comfort of their screens. This can retain the atmosphere of the estate, capturing its luxurious design which you have worked hard to produce.
How much does a Matterport 3D tour cost?
Our Matterport 3D virtual tours start at $350. That's for a small space and the prices go up from there based on the total area, the complexity of the space and the exact location. To get an instant quote get in touch with our team today.
What is better than Matterport?
Matterport prides itself on being the best 3D software on the market. It works alongside hundreds of professionals who have made its software simple to use and accessible to any skill level, so making a virtual tour cannot be much easier. Its graphics are highly rendered and look almost real.
Is Matterport good for rental properties?
Rental properties can benefit from Matterport's VR tours just as much as any other type of property. Future tenants might be unable to visit the house, such as if they are a student on a placement year abroad, so you can provide them will a fully guided 360 virtual tour online.
Is Matterport worth it for real estate?
Matterport is fantastic when it comes to creating virtual tours for real estate. Not only can it create a virtual twin of the space you plan on having the property built, but it can also place a 3D model of the creation onto the land which is almost tangible.