3D Virtual Tours for Caravans & Campsites
We create caravan 3D virtual tours using the latest in Matterport technology. Call our team today to book a 3D virtual tour of your vehicles, trailers, store, campsite or caravan park. 
3D Matterport Caravan & Mobile Home Tours
3D virtual tours, such as Matterport tours, provide an innovative and effective way to market caravans, trailers, and mobile homes. These virtual tours allow potential buyers or renters to explore the interior and exterior of the vehicles in a highly immersive and interactive manner. Viewers can virtually walk through the space, examine the layout, and get a realistic sense of the size and features. With detailed 3D scans, virtual tours showcase the design, amenities, and craftsmanship of the vehicles, giving customers a comprehensive view of what they can expect. This technology enhances the marketing process by offering a visually engaging and informative experience, helping to attract and engage potential customers.
199C-RB - Retreat
Caravans & Camping
Shared by: SmartView Media
Polidomes
Caravans & Camping, Świebodzin, Poland
Shared by: Marcin Martyna
More 3D Virtual Tour options…
We're in your backyard!
We operate nationwide across Australia with the biggest network of operators in the country.
Just give us a call on 1300 00 3392 or contact us here for an instant quote and to get booked in.
Benefits of using 3D virtual tours to to advertise caravans & mobile homes
Virtual tours offer a realistic and immersive experience, allowing potential buyers to visualize themselves inside the caravan, mobile home, or trailer.
They can provide an accurate representation of the vehicle's interior and exterior, giving potential buyers a comprehensive view of the space and layout.
Enable potential buyers to explore the vehicle from anywhere, eliminating the need for physical visits and expanding the reach to a wider audience.
Buyers can pre-screen vehicles through virtual tours, saving time and money by narrowing down their options before scheduling in-person visits.
Virtual tours allow viewers to examine the vehicle's features, amenities, and craftsmanship in detail, ensuring a thorough understanding of its quality and condition.
Interactive features within virtual tours, such as hotspots and informational pop-ups, enhance viewer engagement by providing additional information and details about the vehicle.
Potential buyers can take virtual tours at their own pace and convenience, exploring every nook and cranny without any time constraints or pressure.
Virtual tours minimize the number of physical visits, resulting in less wear and tear on the vehicles and reducing the impact on the environment.
3D tours are highly shareable and can be easily integrated into online listings and social media platforms, attracting more potential buyers.
Utilising 3D tours sets sellers apart from their competitors, showcasing a modern and innovative approach to marketing their vehicles.
A Powerful Suite of Features
Transform how you market and manage your properties with Matterport's twin digital platform.
How Matterport 3D tours can help market your caravans, mobile homes or trailers
In Australia, businesses in the camping, caravan, mobile home, and trailer industry are utilising 3D virtual tours to enhance their marketing and sales strategies. These immersive tours are revolutionizing the way these businesses showcase and sell their products.
One of the primary applications is incorporating 3D virtual tours into online listings. By providing potential buyers with an interactive and detailed view of the camping units, caravans, mobile homes, and trailers they have for sale, businesses can offer a virtual walkthrough experience that showcases the features and layout of the vehicles.
Prospective buyers can explore the vehicles remotely, leveraging the convenience of 3D virtual tours. They can examine every detail, from the interior design and amenities to the exterior features, enabling them to make informed decisions and narrow down their options before visiting in person.
To simulate the experience of a physical showroom, some businesses create virtual showrooms where customers can virtually walk through different models and configurations. This approach allows potential buyers to browse the inventory from the comfort of their own homes, saving time and providing a realistic understanding of the available options.
Interactive elements within the virtual tours add further value. Clickable hotspots, informational pop-ups, and embedded videos provide additional details about specific features, customization options, and pricing, engaging potential buyers and answering their questions in a seamless virtual environment.
Additionally, some businesses organize virtual open houses or live guided tours, where customers can join real-time virtual walkthroughs led by a sales representative. This interactive experience allows buyers to receive personalised assistance, ask questions, and gain a comprehensive understanding of the camping units, caravans, mobile homes, or trailers.
By incorporating 3D virtual tours, businesses in this industry expand their reach beyond local customers. Potential buyers who are located far away or unable to visit physical locations can still explore the offerings, broadening the market reach for these products.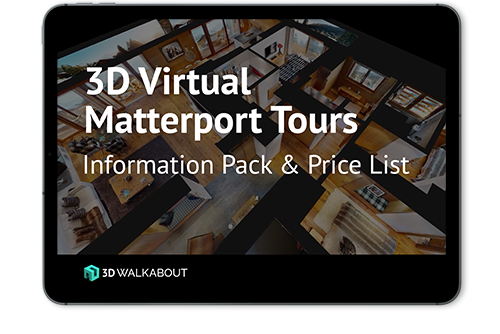 If you'd like to receive our full '3D Virtual Matterport Tours Information Pack & Price List' add your details below.
No Results Found
The page you requested could not be found. Try refining your search, or use the navigation above to locate the post.
Frequently Asked Questions
How long does it take to 3D scan a house?
It takes around 90 minutes to a couple of hours before your digital Matterport 3D scan will be ready for use. The amount of time spent on a 3D home scan will depend on the size and complexity of your property, so contact us for a more precise estimate.
What is a 3D scan of a house?
A 3D scan digitalises a house setting which allows someone to manipulate the objects, colours and other properties of the rooms and then store them in digital format. This allows creatives and sellers to showcase their houses online to a remote audience or even use it for animated videos or games.
What is Matterport for real estate?
Matterport allows real estate companies to produce a 3D property scan of their buildings so they can be viewed by prospective buyers from the comfort of their screens. This can retain the atmosphere of the estate, capturing its luxurious design which you have worked hard to produce.
How much does a Matterport 3D tour cost?
Our Matterport 3D virtual tours start at $350. That's for a small space and the prices go up from there based on the total area, the complexity of the space and the exact location. To get an instant quote get in touch with our team today.
What is better than Matterport?
Matterport prides itself on being the best 3D software on the market. It works alongside hundreds of professionals who have made its software simple to use and accessible to any skill level, so making a virtual tour cannot be much easier. Its graphics are highly rendered and look almost real.
Is Matterport good for rental properties?
Rental properties can benefit from Matterport's VR tours just as much as any other type of property. Future tenants might be unable to visit the house, such as if they are a student on a placement year abroad, so you can provide them will a fully guided 360 virtual tour online.
Is Matterport worth it for real estate?
Matterport is fantastic when it comes to creating virtual tours for real estate. Not only can it create a virtual twin of the space you plan on having the property built, but it can also place a 3D model of the creation onto the land which is almost tangible.