3D Virtual Tours for Display Homes
3D Matterport virtual tours are a great way to keep your display home open 24/7. Why limit your open homes to the weekend when you can allow customers to walk through at anytime from their sofa. 
3D Matterport Home Builders Scanning
When you're developing homes for sale, showing them off in as much detail as possible provides you with an opportunity to sell to more customers. A full 3D walkthrough using Matterport tour software is the ideal route to an accurate, high-quality virtual inspection of the property. 3D Walkabout offers a series of display home 3D tour services, providing an accurate 3D home scan that sellers use when presenting prospective purchasers with their perfect future properties. Learn more about 3D virtual tours and their benefits below.
The Grand Indie
Home Builders, Lakelands, Western Australia
The Grand Indie by Smart Homes For Living is a 4 x 2 home design that will captivate you! The beautiful façade features stone piers, Duraplank cladding & creative steelwork design, perfectly suited to the picturesque coastal location.
 52 Propeller Avenue
Home Builders  Brabham, Western Australia
52 Propeller Avenue is a premier home builder's showroom, showcasing exquisite designs and craftsmanship. With attention to detail and a commitment to quality, they create stunning homes that capture the essence of modern living.
More 3D Virtual Tour options…
We're in your backyard!
We operate nationwide across Australia with the biggest network of operators in the country.
Just give us a call on 1300 00 3392 or contact us here for an instant quote and to get booked in.
Benefits of using 3D virtual tours to Home Builders
Present a virtual 3D property scan without the need for a full spare property
Scan building quickly, only requiring access for around half an hour
Present a flexible perspective of the property in a virtual tour
Increasing the prestige of the property with a VR tour
Flexible for varying levels of technology, with a 360 tour working on browsers
Greater levels of interactivity in the 3D walkthrough process
Integrated 3D scanning technology makes the process as simple as can be
Ideal for a display home virtual tour that shows an example piece in a big development
Works for both homes and office properties, supporting all developers
A virtual property tour provides full access for the differently abled
A Powerful Suite of Features
Transform how you market and manage your properties with Matterport's twin digital platform.
How homebuilders can open their display homes 24/7 at no cost
The first step to opening a display home fully to the public at no cost is by committing to a display home Matterport tour. These 360 virtual tours, supported by Matterport, mean that companies present their properties in incredible levels of detail to their prospective clients. As a developer, building the virtual tour itself is a relatively simple process. Start with a Matterport 3D scan that maps out the space using a series of images, creating a comprehensive 3D landscape of the room. Do this in every room, including corridors so the viewer better understands the transitions between the rooms.
From this point, upload the 3D tour to a series of relevant websites. The more places you place your 360 walkthrough of the property and interactive virtual tours, the more people have a thorough look at the property and learn whether they want to invest their time and effort into securing it. A building virtual tour is an ideal opportunity for anyone seeking to make a change to the way that they present properties to potential buyers, speeding up the process of examining a property and building a high level of interest from the very first look someone has at a house online.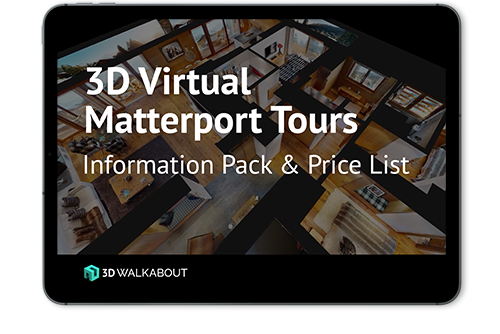 If you'd like to receive our full '3D Virtual Matterport Tours Information Pack & Price List' add your details below.
No Results Found
The page you requested could not be found. Try refining your search, or use the navigation above to locate the post.
Frequently Asked Questions
How much does it cost to create a display home virtual tour?
Matterport has free accounts available to people with an interest in presenting display homes in a 3D space. There are paid packages available for people looking for extra beneficial features such as adding users, but this isn't a necessary feature. The company also offers flexible Enterprise pricing.
Can you upload a Matterport 3D tour to domain.com.au?
You can upload a Matterport tour to domain.com.au by opening the listing in question, opening images and entering the virtual tour URL in the relevant field. This is an ideal site as Domain works with both residential and commercial interests, supporting 3D tours of office environments.
Can you upload a Matterport 3D tour to realestate.com.au?
You can upload a Matterport tour to realestate.com.au. You do so by entering it in the 'Online Tour 1' field of the Agent Admin page. Having a virtual tour on this site is ideal, as RealEstate generates a lot of demand for all kinds of residential properties.