3D Virtual Tours for Hotel & Spas
We offer Matterport 3D virtual tours for the hotel & spas property tours across Australia. Market your hotel or spa 24/7 for potential customers to view from their own home, anytime or any device.
3D Matterport for the Hotel & Spas Scanning
Virtual technology is taking the world by storm industry after industry, and the hotel and spa sector is no different. More and more establishments in Australia are utilising 360 virtual Matterport tours as a way to allow potential guests to view their premises and interact with a virtual inspection through new and advanced walkthrough technology. These 3D scans allow hotels and spas to accurately display their establishments with hotel matterport tours and attract potential guests enticing them to experience their luxurious offerings first-hand and in person. It's essentially a sample offer and is a great marketing and promotional technique for hotels and spas across Australia.
Ursprungs Panorama
Hotel & Spas Pinzgau, Austria
Shared by: Rami Diab - Photography & Videography
The One Spa
Hotel & Spas Abu Dhabi - United Arab Emirates
Shared by: Coordinate Advertising and Marketing
Aloft Hotel
Hotel & Spas Perth Western Australia
Designed for global travellers who love open spaces, open thinking and open expression, this is where travel creates possibilities. Where style is necessary. Connectivity keeps up with you. Social scenes are vibrant. And the only way is forward.
More 3D Virtual Tour options…
We're in your backyard!
We operate nationwide across Australia with the biggest network of operators in the country.
Just give us a call on 1300 00 3392 or contact us here for an instant quote and to get booked in.
Benefits of using 3D virtual tours for hotels & spas
Immersive way to experience hotels and spas from home
Promote venue to potential guests and draw in visitors
As simple and easy to use as photos but much more immersive
Interactive and engaging to make it as accurate as possible
Opens venue to visitors 24/7, making your establishment more accessible
Easy to share to get the word out about your hotel or spa
Stands out from competitors and appears more advanced and progressive
Can convert web visitors to actual visitors
Embeds booking text throughout to draw in more in-person bookings
Compatible and adaptable to apply to multiple software and devices, including VR
A Powerful Suite of Features
Transform how you market and manage your properties with Matterport's twin digital platform.
Why you should consider a Matterport 3D virtual tour for your hotel or spa
A Matterport 3D virtual tour would be a great investment for your hotel and spa for a variety of reasons. It has many benefits, but the main one is the custom it could generate. A hotel 3D virtual tour allows potential visitors to interact with your establishment and see an immersive, walkthrough, full property scan before visiting. This will allow potential visitors to see your business beforehand and will entice them to visit in person. By using hotel Matterport 3D virtual tours you show your commitment to both your hotel, spa and customers. This interactive addition conveys a sense of professionalism and commitment as you want to present the best version of your business to others. It speaks volumes about the standard you carry for your team and operation as you want to make the hotel and spa accessible and inviting.
It also acts as an intimidation tactic against competitors. By incorporating such an advanced and innovative promotional technique into your marketing, you show competitors exactly what they are up against. The inclusion of hotel 3D virtual tours with matterport technology is your professional way of showing that you're ahead of the game and leading the Australian hotel and spa industry into a new age of advanced technology.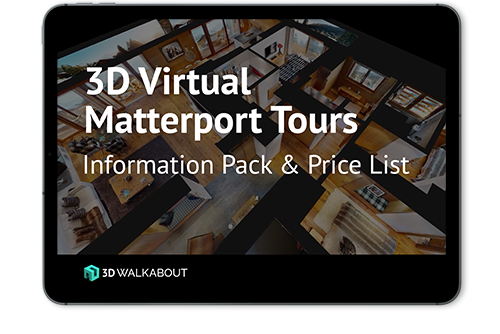 If you'd like to receive our full '3D Virtual Matterport Tours Information Pack & Price List' add your details below.
No Results Found
The page you requested could not be found. Try refining your search, or use the navigation above to locate the post.
Frequently Asked Questions
Can it go onto Booking.com?
Yes, Booking.com is one of the online companies that supports the uploading of 3D tours. Booking.com has stated the importance and growing interest in the use of interactive VR tours for hotels and spas over the past few years and understands that it is a leading form of technology in today's age. This is why you can upload your Matterport to your Booking.com listing.
Does Airbnb support 3D tours?
Currently, you cannot put a Matterport or 3D virtual tour on your listing on Airbnb. At the moment Airbnb's software does not currently support this innovative asset, so it'd be useful to utilise your Matterport tour by uploading it to an alternative site that does support it, or to your website and having a hyperlink to your website from your Airbnb listing so visitors can still enjoy a 360 tour.