3D Virtual Tours for Luxury Boats & Yachts
Whether you own and lease your own boat or work for a company/agency with a fleet of boats our Matterport 3D virtual tours are a great way to create a digital twin of the vessel to share with clients and colleagues. 
3D Matterport for Luxury Boats & Yachts Scanning
Matterport tours are becoming increasingly popular in many kinds of industries. Real estate, construction and architectural companies are all desperate to utilise the state-of-the-art software themselves due to the engagement it receives from potential buyers, so it is no surprise that it is also being used in the nautical industries too. Yacht and boat listings with included 3D virtual tours garner a 95% higher interest rate from the public than those that do not. As yachts sell in a similar way to real estate properties, they can also benefit from all that Matterport 3D scans have to offer. Boat Matterport tours offer 3D walkthroughs to annotation features, and the ability to replicate the entire space within the boat in an accurate and true-to-reality manner, here is why you should consider joining the trend.
Total Assist
Luxury Boats & Yachts, Perth, Western Australia
Total Assist in Australia offers comprehensive shipping services, ensuring reliable and efficient transportation of goods with utmost care and professionalism.
Nova
Luxury Boats & Yachts, Perth, Western Australia
Powerful vessel assisting with maneuvering and towing ships in harbours.
Toy | Azimut Yacht
Luxury Boats & Yachts
Shared by: 360_Plus
More 3D Virtual Tour options…
We're in your backyard!
We operate nationwide across Australia with the biggest network of operators in the country.
Just give us a call on 1300 00 3392 or contact us here for an instant quote and to get booked in.
Benefits of Matterport 3D Virtual Tours for yacht & boat rental companies
They can be used for virtual inspections by external property review companies.
Matterport offers a wide range of features to customise your 3D virtual tour with.
Visual data can be collected through a flexible range of camera types.
Yacht Matterport tours increase the price of a pre-existing listed vessel.
Interactive virtual tours are just as engaging as ones conducted in person.
Any information can be transferred to Matterport through the use of a 3D home scan.
Yacht 3D virtual tours can be conducted using a VR headset, heightening immersivity.
Edits can be made whilst the tour is online, showing off smaller details which might have previously been missed.
Remote viewing offers easier collaboration with other yacht sellers.
Files can be sent to estate agents and prospective buyers with ease.
A Powerful Suite of Features
Transform how you market and manage your properties with Matterport's twin digital platform.
How are Matterport 3D tours currently being used to market yachts & boats?
Boats and yacht 3D virtual tours are currently being used to show people around them remotely, being offered to those with an interest in purchasing. 3D models and images can be annotated to give viewers further insight into the boat's features and a guide will be on standby to answer any questions that might arise.
Matterport 3D scans are taken of the rooms within a boat or yacht, which can then be uploaded as digital formatting onto their software. From here, edits can be made to make the tour more interactive for buyers, such as photograph manipulation, imagery overlays and annotation so that you can provide them with the most appealing 360 tour view of your vessel.
As previously mentioned, tours cover a satisfying 360 walkthrough, so no part of the boat is left unseen.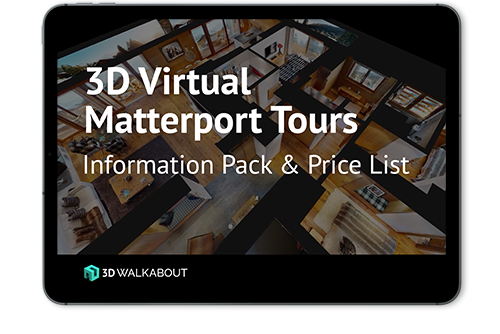 If you'd like to receive our full '3D Virtual Matterport Tours Information Pack & Price List' add your details below.
No Results Found
The page you requested could not be found. Try refining your search, or use the navigation above to locate the post.
Frequently Asked Questions
How do you create a virtual tour of a boat?
You will first need to have a 3D property scan done of your boat. This can be done through Matterport's 3D scanning technology which takes around 90 minutes to a few hours to complete. This digital data can then be transferred to Matterport to create a virtual property tour.
How can Matterport tours help sell your luxury yacht?
Imagine your yacht's 360 virtual tour being accessible by anyone online, whether or not they are local. By appealing to sellers who cannot see your boat in-person, you are opening your chances up to selling it quicker, for more money and to someone out of a wider range of potential buyers.