3D Virtual Tours for Residential Real Estate
If you are a real estate agent and you haven't been using Matterport 3D virtual tours on your listings then you are missing out! Open your clients' homes 24/7 to a new growing wider audience. It's affordable & effective. 
3D Matterport House Scanning
It is no surprise that Matterport is embracing the real estate industry. With its top-quality visual design and malleable nature, the software specialises in creating virtual tours of properties and homes which can be shared with both buyers and sellers across the globe. An expansive set of exclusive features and useful assets to make your tour even more engaging are available alongside the installation, so next time you want to rank up sales on your homes, you should consider investing in Matterport 3D virtual tours to help promote your work.
Display Home
Fully Customized Matterport Tour
This tour shows you some of the 'bells and whistles' available in our fully custom Matterport tours. From 3D furniture and 3D animated avatars to embedded videos and full audio. Make your tours stand out from the crowd.
Montauk
Display Home, Vasse, Western Australia
Introducing, the Montauk. An exceptional family home that brings classic Hamptons style to the South West. As you enter the home from the front veranda, you'll find the secluded home theatre on your left, perfect for those family movie nights.
The Grand Willow
Display Home, Perth, Western Australia
Beautiful family display home.
More 3D Virtual Tour options…
We're in your backyard!
We operate nationwide across Australia with the biggest network of operators in the country.
Just give us a call on 1300 00 3392 or contact us here for an instant quote and to get booked in.
Benefits of using 3D virtual tours to sell and rent homes
VR tours can be conducted using a headset
74% of agents using virtual property tours win more listings
They open doorways to remote collaboration with professionals
3D virtual tours can be given to letting agencies all over the country
They attract remote, hence more, potential buyers
Tours are conducted as 360 walkthroughs, which means no area is unseen
Using virtual tours means you can sell properties for higher prices
Building virtual tours are guided, so your customers get the best experience
The tours are fully customisable
Sales can be conducted quicker than usual
A Powerful Suite of Features
Transform how you market and manage your properties with Matterport's twin digital platform.
How is Matterport being used to sell more houses?
Matterport can be used to sell more houses in various different ways. Not only are 95% of people more likely to enquire about listings offering real estate 3D virtual tours, but they also have interactive virtual tours of the property at hand. Whilst viewing a house remotely means that a potential buyer cannot physically engage with the environment, there are plenty of opportunities for them to do this virtually too. Whilst opening their eyes to a 360 virtual tour so no area is left uncovered, the software can add annotations to its work through notes and tags which can be read easily by those viewing the house. It can even be used for organisations to conduct a virtual inspection.
Real estate industries are using Matterport due to its high-quality picture and rendering services, which are marketed as one of the best on any VR software. Images can be generated through a phenomenon called 3D scanning, which takes a copy of the building and transfers it to digital content which can later be enhanced and rendered, all ready for conducting a 3D walkthrough. With a twin platform and compatibility with many different cameras, no wonder a Matterport tour is boosting sales.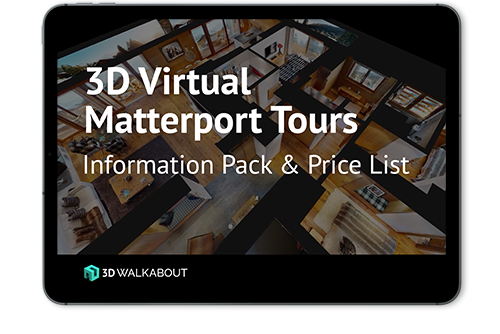 If you'd like to receive our full '3D Virtual Matterport Tours Information Pack & Price List' add your details below.
No Results Found
The page you requested could not be found. Try refining your search, or use the navigation above to locate the post.
Frequently Asked Questions
How long does it take to 3D scan a house?
It takes around 1-2 hours to scan an average size family home. It's then another 24-48 hrs before your digital Matterport 3D scan will be ready for use. The amount of time spent on a 3D home scan will depend on the size and complexity of your property, so contact us for a more precise estimate.
What is a 3D scan of a house?
A 3D scan digitalises a house setting which allows someone to manipulate the objects, colours and other properties of the rooms and then store them in digital format. This allows creatives and sellers to showcase their houses online to a remote audience or even use it for animated videos or games.
What is Matterport for real estate?
Matterport allows real estate companies to produce a 3D property scan of their buildings so they can be viewed by prospective buyers from the comfort of their screens. This can retain the atmosphere of the estate, capturing its luxurious design which you have worked hard to produce.
How much does a Matterport 3D tour cost?
There is a wide range of costs for one of these. A real estate Matterport tour costs starts from $350 but ultimately depends on the size of the space. The best thing to do is give our team a call and you can get an instant quote over the phone or by email.
What is better than Matterport?
Matterport prides itself on being the best 3D software on the market. It works alongside hundreds of professionals who have made its software simple to use and accessible to any skill level, so making a virtual tour cannot be much easier. Its graphics are highly rendered and look almost real.
Is Matterport good for rental properties?
Rental properties can benefit from Matterport's VR tours just as much as any other type of property. Future tenants might be unable to visit the house, such as if they are a student on a placement year abroad, so you can provide them will a fully guided 360 virtual tour online.
Is Matterport worth it for real estate?
Matterport is fantastic when it comes to creating virtual tours for real estate. Not only can it create a virtual twin of the space you plan on having the property built, but it can also place a 3D model of the creation onto the land which is almost tangible.