3D Virtual Tours for Sporting Facilities
We offer Matterport tours for sports grounds, footy clubs, gyms, climbing walls & recreational facilities across Australia. Give our team a call today to get an instant quote and book in a date.
3D Matterport Sporting Facilities Scanning
3D Walkabout is a 3D rendering studio that helps businesses in a range of industries to create 3D virtual tours to boost engagement and interest in their product. Australian organisations are already benefitting from 360 virtual tours of their space, such as gyms or sporting facilities. 3D Walkabout can help to create amazing sport ground Matterport tours with high-end knowledge of this advanced technology. 3D walkthrus can help prospective customers to feel familiar with your building before even stepping foot inside. Interactive virtual tours are just around the corner when you choose impressive 3D property scanning from 3D Walkabout, powered by Matterport.
Roar Active
Gym, Perth, Western Australia
Roar Active Fitness is an energetic fitness center in Australia, offering dynamic workouts and a vibrant community for health enthusiasts.
Body Biomechanics
Gym, Perth, Western Australia
Established in 2011, Body Biomechanics Western Australia is a privately-owned rehabilitation and fitness business offering both one-on-one and group services.
More 3D Virtual Tour options…
We're in your backyard!
We operate nationwide across Australia with the biggest network of operators in the country.
Just give us a call on 1300 00 3392 or contact us here for an instant quote and to get booked in.
Benefits of using 3D virtual tours for sporting facilities
360 virtual tours mean that customers learn everything they need to know before visiting through a virtual inspection
Customers and employees can understand the layout and functionality of the facility
Conversion rates are increased because client expectations are set accurately
Customers are inspired to visit your sports facility, resulting in more bookings
Travel time and cost are dramatically reduced for employees because the need for site visits is reduced
Reduced travel by car and plane results in lower carbon emissions
3D walkthroughs on your website can greatly increase engagement stats
Customers with access to a building virtual tour are more likely to leave positive reviews
Gives companies better access to key success metrics to share with stakeholders
High-quality 3D rendering displays your sports facilities in the best possible light
A Powerful Suite of Features
Transform how you market and manage your properties with Matterport's twin digital platform.
How are Matterport 3D tours currently being used to advertise recreational sporting venues?
Matterport 3D scans are currently being used to advertise sporting facilities, stadiums and grounds by a range of organisations. This often involves offering a 360 virtual tour of the facility on their website, which is free to access for users at any time. Or, they may use VR tours where a VR headset is needed. These are both interactive virtual tours created by 3D Walkabout using Matterport's 3D property scanning technology.
This gives prospective clients a chance to experience the grounds as if they were there, getting to grips with its functionality and what facilities it offers without the need to actually visit. This helps customers to feel more confident in choosing to use the facilities, whether this is for individual use, group access or to book a major event. Matterport tours are also popular because they allow clients to get a 3D walkthrough of the facility without them or a member of staff needing to travel to the facility, using up valuable company time. Virtual property tours mean that employees can focus on their most important roles rather than giving multiple tours a day, which uses up the organisation's resources in an inefficient way.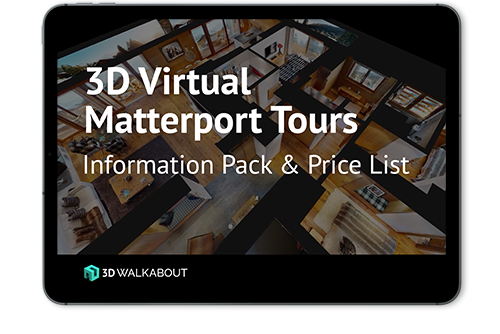 If you'd like to receive our full '3D Virtual Matterport Tours Information Pack & Price List' add your details below.
No Results Found
The page you requested could not be found. Try refining your search, or use the navigation above to locate the post.
Frequently Asked Questions
Can you scan outdoor sporting areas with Matterport?
Yes, you can scan outdoor sporting areas with Matterport, including sports grounds, fields, arenas or courts. This works in the same way that an indoor building virtual tour would and can be used to create 3D walkthroughs of any outdoor area.
Can I use Matterport for my sporting venue?
Yes, Matterport can be used to create virtual property tours for any building, including sporting venues, no matter their size or shape. These 3D property scans work much in the same way as a home scan would, capturing high-quality renders of the area and putting these together for 360 tours that users can access from anywhere.