3D Virtual Tours for Restaurants, Bars and Cafes
We offer Matterport restaurants, bars and cafes property tours across Australia. 3D property scanning for restaurants, bars and cafes.
3D Matterport Restaurants, Bars and Cafes Scanning
At 3D Walkabout, we use advanced 3D rendering and VR/AR technology to create 3D virtual tours for restaurants, bars, and cafés across Australia. We use Matterport technology to scan 3D environments and transfer every detail of your restaurant or bar into the digital space. With our help, restaurants, bars and cafés can offer 3D tours of their premises to attract customers and increase event bookings. Offer interactive virtual tours to your customers so they're able to accurately visualise their special occasion – whether it's a birthday dinner or a wedding reception – in your restaurant or bar.
Bopp & Tone
Reastaurant, Bars & Cafe, Sydney, NSW
Stylish restaurant/bar with vintage decor offering sharing menus, char-grilled fare & a terrace.
Rafi North
Restaurants, Bars & Cafes,  Sydney, NSW
Rafi North in Sydney is a culinary gem offering a delectable fusion of flavors. With its vibrant ambiance, impeccable service, and innovative dishes, it promises an unforgettable dining experience that tantalizes the taste buds.
The Butler & Bloom
Restaurants, Bars & Cafes,  Sydney, NSW
The Butler is an Ibero-American restaurant nestled amongst the backstreets of Potts Point with exotic themes enclosing the dining area and forest-like foliage consuming the outdoor area. Panoramic views from the terrace, along with the great cuisine, cocktails and an extensive wine list, make this a popular establishment.
The Flour Factory
Restaurants, Bars & Cafes,  Perth, WA
A 3-story renovated mill with a rooftop bar offering charcuterie, gourmet mains & a variety of gins.
More 3D Virtual Tour options…
We're in your backyard!
We operate nationwide across Australia with the biggest network of operators in the country.
Just give us a call on 1300 00 3392 or contact us here for an instant quote and to get booked in.
Benefits of using 3D virtual tours to market cafe or restaurant
Allow guests to explore your space in detail before they book with you
Increase customer confidence and boost event bookings with 3D virtual tours
Keep up with the competition and embrace the latest technology
Attract customers and bookings from all around the world
Increase walk-ins as customers browse for nearby restaurants online
Show off your venue's unique decor and aesthetic
Impress customers before they even step foot on your premises
Maintain an active digital presence online to boost your brand's SEO
Show your customers that you're willing to go the extra mile to impress
Place your business at the forefront of modern marketing
A Powerful Suite of Features
Transform how you market and manage your properties with Matterport's twin digital platform.
How are Matterport 3D tours currently being used by cafés and restaurants to get more bookings?
Restaurants, bars, and cafés all around the world use Matterport 3D tours and 360 virtual tours to showcase their hospitality business's unique sense of style and comfortable surroundings to potential customers all around the world. Anyone who runs a restaurant or bar knows that the design of your venue is just as important as the quality of the food and drink you serve, and a Matterport 3D scan gives business owners the perfect opportunity to allow customers to browse before they book. What's more, Matterport 3D scanning means that creating a 360 walkthrough of your restaurant or café is now easier than ever.
As 3D property scan technology develops, the number of restaurants and bars embracing virtual tour marketing is growing across Australia. Business owners are using 360 tour technology to increase bookings, boost customer confidence, entice local customers to walk in, and promote unique and eye-catching event spaces to patrons from around the world. If you've invested money into creating a unique event space for beautiful weddings and memorable celebrations, make sure the world knows about it with an online restaurant virtual tour to increase your bookings and maximise profits in an increasingly competitive market.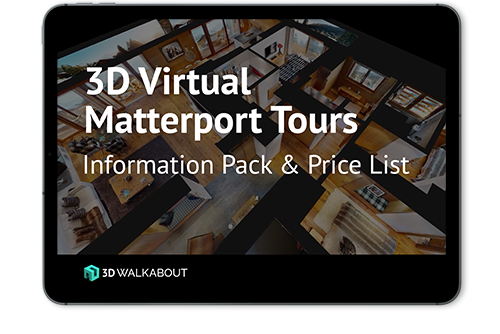 If you'd like to receive our full '3D Virtual Matterport Tours Information Pack & Price List' add your details below.
No Results Found
The page you requested could not be found. Try refining your search, or use the navigation above to locate the post.
Frequently Asked Questions
How do you create a restaurant virtual tour?
Matterport technology allows users to scan 3D spaces using a 3D camera and digitise these to create detailed and realistic 3D virtual tours. This process involves complex AI technology and a little bit of help from us. A restaurant Matterport tour allows customers to 'walk' around your restaurant or venue online to understand its layout, design, and features.
Is Matterport a good option to market my restaurant?
Matterport is an effective and affordable way to create a restaurant 3D tour and market your restaurant to potential customers all around the world. Today more than ever, customers want to know what to expect before they book a table, and a 3D walkthrough is the perfect way to showcase your restaurant's unique style to your customers.