3D Virtual Tours for Shops & Retailers
3D Matterport virtual tours are a great way for retailers to market their spaces in a unique way. People can free roam your store from home, view products and videos and even click through to your online store. 
3D Matterport Shops Scanning
3D Walkabout is a VR/AR agency and leading 3D rendering studio offering award-winning reality technology for its customers based in Australia. By using shop Matterport tours, retailers can give customers an immersive experience of their physical store, display their best-selling products and increase engagement through the online platform. Using 3D tours is set to transform the way people shop and is now the most effective way to be noticed in the retail world.
Fendi Queens Club Store
Retail Store, Sydney, New South Wales
This store was designed to allow Fendi customers to view the store, click on products, view close up shots and then link through to their online store to make a purchase. An excellent way to showcase the brands and products in a new and unique way.
Craft Decor
Perth, Western Australia
Supplying Perth with quality tiles and timber laminate since 1972. 5, conveniently located, giant showroom
Athleisure Mall
Canberra Centre, Canberra, ACT
Long-standing shopping destination with 260+ shops, restaurants & services, plus a cinema.
More 3D Virtual Tour options…
We're in your backyard!
We operate nationwide across Australia with the biggest network of operators in the country.
Just give us a call on 1300 00 3392 or contact us here for an instant quote and to get booked in.
Benefits of using 3D virtual tours for retail outlets
Improve online presence by generating leads and improving Google ranking
Attracts more customers by showing off the best parts of the store in virtual reality using a 360 walkthrough
Allows customers to experience what it is like to spend time in the store before they visit it by using a shop 360 tour
Shop 3D virtual tour offers an immersive, virtual inspection for customers of what they may buy from you
Increases engagement with customers to turn them into loyal patrons
Uses 3D models to highlight certain products and show how they are used in real life
Can print 3D virtual property tour photos at a lower price
Creates higher quality photos than traditional images
Interactive virtual tours can help to generate more leads and sales by attracting customers to make a purchase
Increase conversion rate
A Powerful Suite of Features
Transform how you market and manage your properties with Matterport's twin digital platform.
How are Matterport 3D tours currently being used by shops to sell more products?
Retail Matterport tours are being used by shops as the perfect tool to help engage more customers and turn them into loyal patrons. You can use 3D models to highlight products, show how they work and show how they're used in real life, increasing engagement and therefore sales by attracting customers before they even enter the store.
3D property tours are also helping shops to improve their online presence and generate more leads by giving people a chance to see what it's like to visit the store from anywhere in the world. It's especially useful for those who are considering visiting but aren't sure if they want to make the trip as the immersive experience of Matterport 3D scans allows visitors to get an idea of what they're getting into before travelling.
Since the goal is to get customers to contact you or make a purchase, 3D walkthroughs are being used by the retail industry to increase conversion rates and therefore sales over time through repeat purchases and rereferrals from friends and family.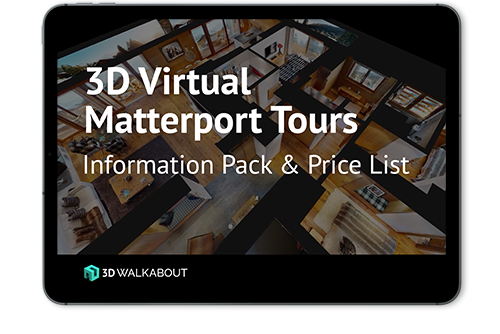 If you'd like to receive our full '3D Virtual Matterport Tours Information Pack & Price List' add your details below.
No Results Found
The page you requested could not be found. Try refining your search, or use the navigation above to locate the post.
Frequently Asked Questions
Is Matterport a good way to create a virtual store?
Matterport is a technology company that allows users to create virtual stores from which consumers can browse, view products close up and purchase items. When you create a Matterport virtual store it's almost identical to visiting the physical store, offering customers all over the world a realistic and immersive experience!
Can I connect my Matterport shop tour to my online shop
A shop 3D virtual tour can be connected to your online shop in just a few easy steps. Click the Matter tag icon in your tour, type your message into the pop-up box and include the name of your company/website.
Can I sell products through a 3D building virtual tour?
Yes, you can sell products through a 3D VR tour. For example, you can use Matterport Pro to create an interactive product catalogue that will allow users to click on products, learn more about them and ultimately purchase them if they like what they see.
How do I set up a virtual retail store?
Having an attractive physical space that helps sell products is part of what makes shopping fun and exciting. When your virtual store is set up, choose a platform/software that is best for you, choose a theme for your website and get a basic understanding of how it works before starting. Finally, scan your building using a 3D property scan to transform it into a home scan tour.