3D Virtual Tours for Retirement Villages
Matterport 3D virtual tours can help potential customers understand the layout of the various accommodation options and the wider grounds and facilities. 
3D Matterport Retirement Village Tours
Retirement villages can be a difficult sell. It's often a tough decision for seniors and their families to make the move from a familiar home to a new living space. However, with the use of 3D virtual tours and Matterport technology, retirement villages can provide an immersive and informative experience for potential residents, giving them a better sense of what the community has to offer. Virtual tours are becoming increasingly popular in the real estate industry, but they're particularly effective for retirement villages, which are often located far away from the potential residents. By using 3D virtual tours, retirement villages can give prospects an accurate, realistic view of their community, including the facilities, grounds, and living accommodations. This means that seniors and their families can tour the community from the comfort of their own homes, without having to spend the time or money to travel.
Stirling Park
Retirement Villages, Ontario, Canada
Shared by: Point3D Commercial Imaging
The Maplewood
Retirement Villages, Ontario, Canada
Shared by: Point3D Commercial Imaging
More 3D Virtual Tour options…
We're in your backyard!
We operate nationwide across Australia with the biggest network of operators in the country.
Just give us a call on 1300 00 3392 or contact us here for an instant quote and to get booked in.
Benefits of using 3D virtual tours to advertise retirement villages
Allow potential residents to virtually tour the facility from anywhere
Immersive and informative experience for potential residents, allowing them to explore the facility at their own pace
Allow potential residents and their families to view the facility without the need for travel
Complete transparency, providing potential residents with an honest and accurate view of the facility
More information and insight than traditional marketing materials such as brochures or photos
Using virtual tours as part of their marketing strategy can help retirement villages to stand out from their competitors
Virtual tours can be accessed from anywhere with an internet connection, making it easier for potential residents who may have mobility issues to view the facility
More engaging than static images or text-based descriptions
VR tours can be easily emailed to potential or new customers
Create a competitive advantage by providing a unique and memorable experience for potential residents and their families
A Powerful Suite of Features
Transform how you market and manage your properties with Matterport's twin digital platform.
How Matterport 3D tours can help advertise your retirement village
Matterport technology takes virtual tours to the next level, allowing potential residents to experience a retirement village as if they were there in person. Matterport cameras create an immersive 3D experience that lets prospects "walk" through a retirement village, getting a real sense of the space and layout. This can be especially helpful for seniors who may have mobility issues or difficulty traveling to the retirement village in person.
Virtual tours can also be an effective tool for retirement village marketing. By providing an interactive, engaging experience, retirement villages can stand out from the competition and showcase what makes their community unique. Potential residents can get a better sense of the atmosphere, see the amenities, and get a feel for the overall vibe of the retirement village. This can help retirement villages attract more qualified leads, and ultimately, more residents.
Another benefit of virtual tours is that they can be easily shared. Retirement villages can use virtual tours on their website, in social media, and in online advertising to reach a wider audience. This means that potential residents from all over the world can get a sense of the retirement village's facilities and offerings, which can be particularly helpful for out-of-state or international seniors and their families.
Virtual tours can also help retirement villages address common objections or concerns from potential residents. For example, some seniors may worry that moving to a retirement village will mean giving up their independence. By using virtual tours to showcase the community's facilities and amenities, retirement villages can help potential residents see that they'll still have plenty of opportunities to stay active and engaged. Similarly, some seniors may worry that retirement villages are too expensive. By providing an accurate picture of the community and its facilities, retirement villages can demonstrate the value that they offer, and help alleviate concerns about the cost.
In conclusion, 3D virtual tours and Matterport technology can be a valuable tool for retirement villages looking to market their community. By providing an immersive, engaging experience, retirement villages can attract more qualified leads and help potential residents get a better sense of what the community has to offer. As the use of virtual tours becomes increasingly popular in the real estate industry, retirement villages can stay ahead of the curve and provide a cutting-edge marketing tool to help sell their community to seniors and their families.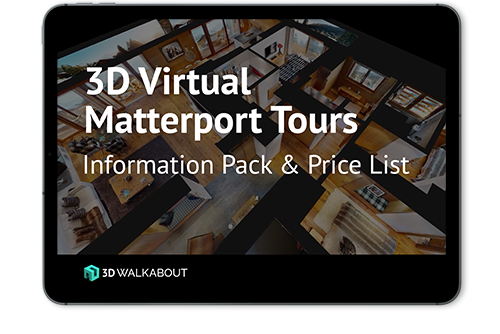 If you'd like to receive our full '3D Virtual Matterport Tours Information Pack & Price List' add your details below.
No Results Found
The page you requested could not be found. Try refining your search, or use the navigation above to locate the post.
Frequently Asked Questions
How long does it take to 3D scan a house?
It takes around 90 minutes to a couple of hours before your digital Matterport 3D scan will be ready for use. The amount of time spent on a 3D home scan will depend on the size and complexity of your property, so contact us for a more precise estimate.
What is a 3D scan of a house?
A 3D scan digitalises a house setting which allows someone to manipulate the objects, colours and other properties of the rooms and then store them in digital format. This allows creatives and sellers to showcase their houses online to a remote audience or even use it for animated videos or games.
What is Matterport for real estate?
Matterport allows real estate companies to produce a 3D property scan of their buildings so they can be viewed by prospective buyers from the comfort of their screens. This can retain the atmosphere of the estate, capturing its luxurious design which you have worked hard to produce.
How much does a Matterport 3D tour cost?
Our Matterport 3D virtual tours start at $350. That's for a small space and the prices go up from there based on the total area, the complexity of the space and the exact location. To get an instant quote get in touch with our team today.
What is better than Matterport?
Matterport prides itself on being the best 3D software on the market. It works alongside hundreds of professionals who have made its software simple to use and accessible to any skill level, so making a virtual tour cannot be much easier. Its graphics are highly rendered and look almost real.
Is Matterport good for rental properties?
Rental properties can benefit from Matterport's VR tours just as much as any other type of property. Future tenants might be unable to visit the house, such as if they are a student on a placement year abroad, so you can provide them will a fully guided 360 virtual tour online.
Is Matterport worth it for real estate?
Matterport is fantastic when it comes to creating virtual tours for real estate. Not only can it create a virtual twin of the space you plan on having the property built, but it can also place a 3D model of the creation onto the land which is almost tangible.