3D Virtual Tours for Wineries & Breweries
We offer Matterport winery & brewery tours across Australia. Call us to get an instant quote and to book a 3D virtual tour for your business today.
3D Matterport Wineries & Breweries Scanning
3D Walkabout is an Australian 3D rendering studio and VR/CR creative industry passionate about achieving the best outcomes for all our clients. With a virtual tour, your winery or brewery will present a new, innovative and engaging marketing experience your customers won't be able to pass up. A winery 360 virtual tour or brewery 3D virtual tours boost consumer confidence and can even generate more bookings and sales. You'll engage more closely with your customers, present user-friendly experiences that encourage repeat visits or purchases, and give your brand or business that extra edge that sets you apart.
Middle Ridge 2020
California, United States
Shared by: Dexterity Creative Solutions
More 3D Virtual Tour options…
We're in your backyard!
We operate nationwide across Australia with the biggest network of operators in the country.
Just give us a call on 1300 00 3392 or contact us here for an instant quote and to get booked in.
Benefits of using 3D virtual tours to to advertise winery or brewery
Engaging, interesting 360-degree, 3D walkabout of your winery or brewery
Gives customers that elusive inside edge into what you do
Allows new and repeat customers to explore your facilities 24/7
Provides 360 walkthrough experiences which are accessible on multiple devices
Offers your customers a comprehensive view of your great facilities
Decreases decision-making time, increases client interest and boosts sales
Offers a smart and effective marketing strategy setting you apart
Connects you with a broader clientele, through simple social media uploads
VR tours can be easily emailed to potential or new customers
Gain an edge over the competition with immersive 3D experiences
A Powerful Suite of Features
Transform how you market and manage your properties with Matterport's twin digital platform.
How Matterport 3D tours can help advertise your winery or brewery?
Matterport 3D tours offer you a fantastic opportunity to advertise your winery or brewery further than ever before. With a Matterport tour, interested viewers and valued customers will get the sense of really being at your premises and will learn what makes your brewery or winery tick. They'll be treated to a behind-the-scenes view of how your product is made, what goes into production, and what sets your winery or brewery apart from the rest. You could even include interviews with distillers or brewers and exclusive tasting or sampling experiences for that extra point of interest. This immersive experience will improve your customers' confidence in your professionalism and business, reduce decision-making, and leave them more likely to make a purchase.
A Matterport 3D scan can be easily shared on social media platforms, with advertising that goes beyond more traditional methods. With 3D tours attracting more interest and user engagement, adding a Matterport tour to your site or social media platform is a great way to connect with potential customers and clients. And as 360 virtual tours can be easily reused, you'll be able to market your winery, brewery and products across a variety of platforms and on repeat occasions.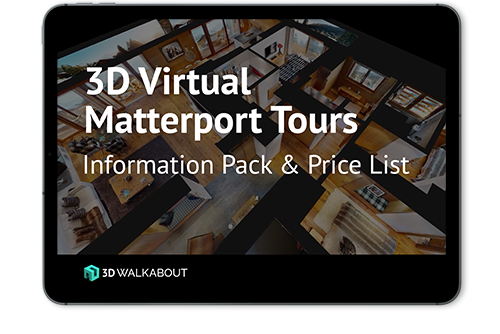 If you'd like to receive our full '3D Virtual Matterport Tours Information Pack & Price List' add your details below.
No Results Found
The page you requested could not be found. Try refining your search, or use the navigation above to locate the post.
Frequently Asked Questions
How do you create a brewery virtual tour?
A brewery 3D virtual tour is created by stitching together high-quality, 360-degree images of your facilities using advanced software. This software transforms these images into an innovative, immersive experience to engage new and returning customers, generate bookings and sales, and market your brewery in a new, interactive way.
How do you create a winery virtual tour?
Winery virtual tours are created using 360-degree images taken throughout your facilities. These images are then stitched together using innovative software, transforming them into a streamlined viewing experience that can be easily uploaded to your website or social media platforms.
Is Matterport a good solution for your winery virtual tour?
Definitely. With a Matterport winery 3D virtual tour, more customers will be able to visit your winery without needing to leave their homes. This simplifies engagement, presenting an immersive encounter to cater to consumers and market your business. You could even combine your winery Matterport tour with eCommerce, so potential customers can buy your wines as they learn how it's made