We Create Beautiful 3D Interior Renders
3D Walkabout is an Australian 3D creative studio that designs amazing 3D interior renders for residential & commercial.
3D Walkabout is a team of professionals that create 3D renders Australia-wide. We provide floor plans and exterior renderings for residential, commercial and architectural clients. Our team work together to create beautiful images that will help you sell your property faster and make you stand out from the crowd. Our main focus is on making sure our clients are satisfied with the final product. We want them to be proud of their home or business when they see it in our images. That's why we make sure all of our work is done in-house so we can control every aspect of the process.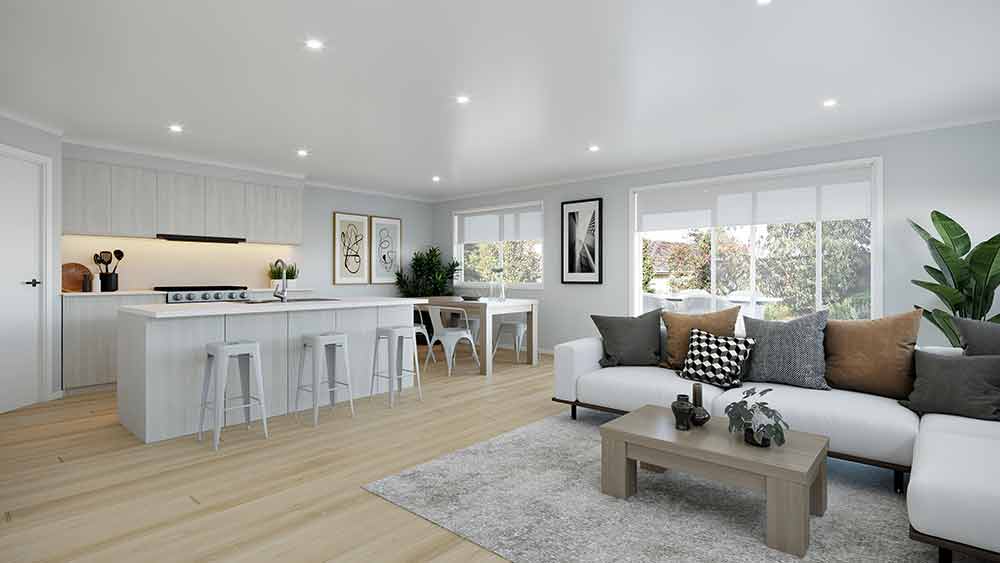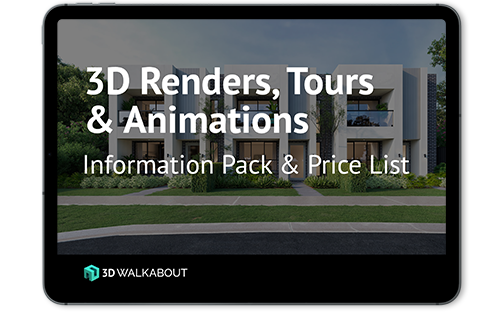 If you'd like to receive our full '3D Renders, Tours & Animations Information Pack & Price List' add your details below.
What are the benefits of 3D Interior Renders for your business?
Enhance your brand and attract clients by showing off what you're capable of creating
Make it easier for clients to visualize how the design will look with 3D animation
Save time by providing a finished product that's ready to be used
Gives the client a better idea of what the finished product will look like
See what the space will look like with furniture and other materials placed inside it
Helps communicate your vision for a project's design to others, including contractors and clients
A new way of marketing that can impact your business
Easy to use and cost-effective
Can be used for both commercial and residential buildings
Easily customised for different uses
How are interior 3D renders currently used to help market planned spaces?
3D interior rendering is becoming increasingly popular as a way to market planned spaces. When a designer or architect creates a plan for a space, they use software that allows them to conceptualize the space in 3D. This can help them visualize what the space will look like in real life and make changes based on feedback from clients, who may not be able to envision what the final product will look like.
3D interior rendering services can also be used as part of a sales pitch when selling a property or planning space. For example, if you're selling your home, you can create a virtual tour of your home with 3D interior renders. This allows potential buyers to see what it looks like inside without having to visit it in person or view photos taken by the seller's agent. The same goes for commercial spaces—if you're trying to sell your business, showing potential buyers an animated video helps market the space better.
Frequently Asked Questions
Can 3D rendering help in communicating design ideas to clients or stakeholders?
Absolutely! 3D rendering is an excellent tool for effectively communicating design ideas to clients and stakeholders. Photorealistic renderings provide a clear and visually appealing representation of the proposed design, allowing clients to understand the spatial layout, color schemes, and overall ambiance of the interior space. It helps bridge the gap between the designer's vision and the client's expectations.
Can 3D rendering accurately represent the materials and textures used in the design?
Yes, 3D rendering can accurately represent various materials and textures used in interior design. Advanced rendering techniques can simulate the look and feel of materials like wood, fabric, metal, and stone with great realism. This enables clients to visualize the materials in the proposed design and make informed decisions about the desired aesthetic.
Is 3D rendering for interior design time-consuming?
While the time required for 3D rendering varies depending on the complexity of the project, advancements in technology have significantly reduced the time needed. With skilled professionals and efficient software tools, the turnaround time for 3D rendering can be relatively quick, allowing for faster design iterations and decision-making.
Can 3D rendering for interior design help in experimenting with different design options?
Absolutely! 3D rendering for interior design provides the flexibility to try out different design options and configurations. Designers can easily swap furniture, change wall colors, modify lighting arrangements, and explore different layouts to find the most appealing and functional design solution. It allows for efficient exploration and comparison of design alternatives.
How can 3D rendering for interior design benefit the design process?
3D rendering for interior design allows designers to create realistic visualizations of the space, showcasing various design elements such as furniture, lighting, colors, and textures. It helps clients and designers visualize the final look and feel of the space, facilitating better decision-making and ensuring the desired outcome.